San Antonio police officers face disciplinary action after wearing Trump hats on the job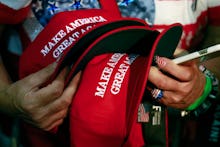 A group of police officers in San Antonio, Texas, are facing disciplinary action after they donned Donald Trump's "Make America great again" hats while in uniform to escort the Republican nominee to the airport.
The dozen or so officers appear in a video Trump tweeted out on Tuesday, showing them exchanging goodbyes with Trump as he boards his plane. Superimposed over the footage are the words: "We will make America safe and great again, together."
But while helping public figures like Trump travel safely is part of the job, the officers' choice of headwear, said San Antonio police chief William McManus, certainly is not. 
"The officers wearing the campaign hats while in uniform violated SAPD policy and will be disciplined appropriately," wrote McManus in a statement on Twitter. "SAPD officers are charged with protecting the entire community."
According to the San Antonio Express-News, a city policy also specifically prohibits city employees from "participating in political activity" while on the job.
"I expect them to know better than to give the appearance of endorsing a candidate while on duty and in uniform, regardless of the political campaign or the candidate," said the police chief.
But the president of the San Antonio Police Officers Association, Mike Helle, told the Express-News he sees the officers' indiscretion as "kind of benign," adding that he doesn't expect them to face any particularly harsh punishment beyond "a written reprimand or counseling to not do that sort of thing on duty."