Amazon Music Unlimited vs Apple Music vs Spotify: Which one is right for you?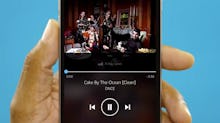 Amazon officially entered the rat race for streaming dominance Wednesday when it released Amazon Music Unlimited, its answer to Apple Music, Spotify, Google Play, Tidal and the rest. Like most other streaming service debuts, it comes with a huge amount of fanfare, but few groundbreaking changes to the streaming format. Its biggest draw: the price tag.
Amazon's new service costs $7.99 per month for Prime members; non-Prime members can get it the industry standard $9.99. There's also a flat-rate pay option at $79 per year, only available to Prime subscribers, which comes out to around $6.58 a month. However, pricing is hardly the only perk the service boasts. For those who already have accounts and own products in the Amazon family, it may be the most convenient place to stream.
Amazon Music Unlimited vs. Apple Music vs. Spotify
Spotify and Apple Music have both settled into their niches in the streaming market. The former, the O.G., has managed to keep growing, despite the added competition, with its advanced algorithms and reliable discovery platforms. It now boasts 40 million paid subscribers, according to Forbes, way ahead of Apple Music's 17 million. That service's biggest distinguishing feature has been its huge exclusive albums, such as Frank Ocean's Blonde and Endless, Chance the Rapper's Coloring Book and its Beats 1 radio premieres. 
In essence, it's an upgrade to the already existing Amazon Prime Music service, bumping the catalog size up from "over 2 million songs" to "tens of millions." That feature of Prime will still remain available for those who don't want to spring for the extra $7.99. Yet Amazon Music Unlimited also gains some added functionality integrating with other Amazon products: It integrates Echo devices and the Alexa voice assistant with an impressive seamlessness. 
Ads for the service reveal that listeners can ask Alexa to play songs based on the lyrics they remember. It can also play the "latest song" from an artist, if so prompted, according to the Verge, or songs to fit a particular mood or activity.
Apparently it's sophisticated enough to understand musical epithets, as well. "You can ask for Michael Jackson by saying, 'Play music by the King of Pop,'" Kintan Brahmbhatt, director of Amazon Music, told Reuters. "It's smart enough to know that's what you meant."
The service is also even cheaper for Echo users, dropping the price to $3.99 monthly plan, but as 9 to 5 Mac noted, choosing this option will limit users to streaming from Echo devices only.
New feature: Side-by-Side
Amazon will also offer a little original content on its service with a feature called Side-by-Side. It will pair artist commentary with tracks from their catalog to offer a VH1 Behind the Music sort of experience from artists like The Chainsmokers, Jason Aldean, Lindsey Stirling, Sting and Norah Jones, to name a few, as reported by the Verge, with more to come in the future.
All in all, the service is essentially set up to benefit an already loyal group of Amazon consumers to a great degree — with the lower price tag and Alexa integration — and it'll function as another run-of-the-mill streaming service for everyone else. If anything, it makes Amazon Prime service a better buy on the whole, which already offers video streaming, lower shipping rates, e-books and all that good content.