Shock poll shows independent candidate Evan McMullin in statistical tie for first in Utah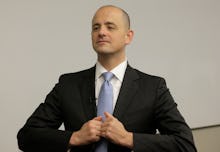 Join us for The UnConvention: an ambitious multiplatform initiative to engage millennials in meaningful civic conversations during this year's election season.
Utah ranked as the most Republican state in the country four years ago, awarding Mitt Romney 73% of the vote against President Barack Obama — but a new poll suggests the longtime GOP stronghold could elude Donald Trump in November, potentially breaking for Democrat Hillary Clinton or even independent Evan McMullin.
The survey, conducted by the Salt Lake City-based Y2 Analytics, showed Clinton and Trump each garnering 26% support in the Beehive State, with McMullin nipping at their heels with 22% support. Libertarian nominee Gary Johnson nabbed 14% of the vote.
The poll, which had a 4.4% margin of error, did not include Green Party nominee Jill Stein, though she will be on the Utah ballot.
Who is Evan McMullin?
With a toxic image among Mormon voters, Trump has long been seen as more vulnerable than a Republican ought to be in Utah, prompting Clinton to court Mormons in a bid to wrest the state from GOP hands.
But the latest survey there suggests that McMullin — a former CIA operative, Goldman Sachs investment banker and House GOP aide — could be the surprise beneficiary of Trump's unpopularity in the state.
A Mormon himself, McMullin is a graduate of Brigham Young University and the Wharton School at the University of Pennsylvania. He launched his presidential bid in August, seeking to appeal to conservative Republicans dismayed by Trump's nomination.
McMullin opposes abortion rights but says it's "time to move on" regarding same-sex marriage, while he supports a path to "earned legalization" for undocumented immigrants in the U.S. — a stance that puts him squarely at odds with Trump, an immigration hard-liner.
Could Evan McMullin win the presidency?
No. But here's his campaign's theory of how it could happen.
If McMullin and other third-party candidates held both Clinton and Trump under the 270 electoral vote threshold required to win the presidency, the election would be in the hands of the GOP-controlled House of Representatives. McMullin's campaign would then hope to benefit from many House Republicans' disdain for Trump — which has only intensified since the leak of the nominee's predatory comments about women in a 2005 videotape, with House Speaker Paul Ryan declaring he would no longer campaign for or defend Trump.
The problem for McMullin is that there's no recent polling data to suggest that a third-party candidate could win any other state but Utah; should McMullin prevail there, he'll have denied Trump six electoral votes, but he'll have done nothing to thwart Clinton.
According to polling averages compiled by RealClearPolitics, Clinton is currently on track to win states totaling 340 electoral votes, with key swing states trending her way.
Will Evan McMullin win Utah?
To put it plainly, that's a far less pie-in-the-sky scenario than the path his campaign has envisioned to the presidency.
The Y2 Analytics poll is his best showing in the state to date. A Salt Lake Tribune-Hinckley Institute poll in September found him winning 12% of the vote, behind Trump at 34%, Clinton at 25% and Johnson at 13%.
In an encouraging sign for McMullin, the latest survey shows that he's polling competitively despite low name recognition. Only 52% of voters have heard enough about him to form an opinion, the poll found, suggesting that McMullin could gain more traction as voters become more aware of his campaign in the contest's final four weeks.
An endorsement from Romney — an outspoken Trump foe who keeps a home in Park City, Utah, and votes in the state — could provide a further boon to McMullin's chances.
The 2012 nominee's son, Matt, recently posted a photo with McMullin on Facebook, indicating that McMullin likely has some support within the first family of Mormon politics.
Should McMullin win Utah, he would be the first independent candidate to win a state since George Wallace in 1968.