Detaining immigrants is so costly Homeland Security drained two months of cash in weeks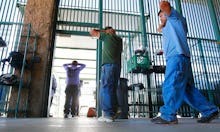 Tough immigration policies ain't cheap — and the Department of Homeland Security is learning that the hard way.
It's only been two weeks since Congress approved a measure to fund the government — including the agency tasked with border security — through December. But Homeland Security is already running out of cash for detaining undocumented immigrants, according to the Wall Street Journal. 
Agency officials told the Journal that they're petitioning the White House for extra funds. But if they don't get it, the U.S. government will actually have to stop detaining undocumented immigrants, potentially as early as November.
Part of the problem is that the current level of funding was appropriate in previous years — but border crossings have been on the rise. 
Many new immigrants are from Haiti: Just last month, President Barack Obama's administration tightened restrictions on Haitian immigrants, who have been traveling to the U.S. from Brazil in waves, in part because of fears that if Republican presidential nominee Donald Trump were elected, his much-discussed wall would make immigration more difficult. 
The Homeland Security shortfall — about $136 million — couldn't come at a worse time. Congress isn't in a position to make changes at the moment, as lawmakers have generally gone home to campaign for re-election. To continue funding detention centers, money would have to be diverted from elsewhere in the budget. 
Obama has come under fire this year over his harsh immigration policies, having deported record numbers of people. In 2014, Obama promised in a speech that immigration officials would focus their efforts on deporting immigrants who had committed serious crimes. 
But a recent investigation by the Marshall Project found that of the more than 300,000 people deported since Obama's speech, about 60% had either strictly immigration-related criminal records (such as for illegal entry) or no criminal records at all.
U.S. Immigration and Customs Enforcement — the agency within the Department of Homeland Security tasked with enforcing federal laws governing border control — did not respond to a request for comment by press time.