Everything we know about the Derrick Rose rape trial so far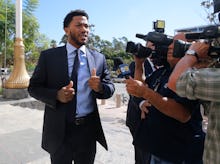 Even before it began in early October, the Derrick Rose rape trial was showing signs of becoming a sticky and problematic situation. Sure enough, things were already heated when jury selection began on Oct. 4, the defense questioned potential jurors about their sexual proclivities, use of dating apps and whether or not they'd be okay with their daughters dating black men, according to Deadspin.
Here's everything we know so far, with updates to come as the case proceeds.
The allegations
Rose and two of his friends, Randall Hampton and Ryan Allen, stand accused of having drugged and raped an intoxicated, mostly unconscious woman, previously identified as Jane Doe. In a civil lawsuit filed in August 2015, Doe alleged that the trio broke into her Los Angeles-area apartment and took turns having sex with her in August 2013. She is seeking over $21 million in damages.
The defense team for the New York Knicks point guard insists that the encounter was entirely consensual and, in their efforts to prove as much, vowed to dredge up Doe's sexual history in court, despite that being irrelevant to the night in question. 
Still, Rose's lawyers — who had long argued his accuser should forfeit her right to privacy — scored a victory in September when U.S. District Judge Michael W. Fitzgerald ruled that Doe could not remain anonymous in court. Whether or not the media names her is up to reporters; Mic generally does not name rape victims.
Days before the trial began, the defense was still cryptically threatening to destroy the victim's credibility through persistent slut shaming, despite repeated warnings from Fitzgerald that such arguments were inappropriate and would result in sanctions. 
Opening arguments
When opening statements began on Oct. 5, attorneys on both sides presented familiar arguments. 
"While [she] was going in and out of consciousness in her house, each one of the defendants took turns raping her," Waukeen McCoy, Doe's attorney, said of the encounter, according to the New York Post. During opening statements, Doe cried into a tissue while her lawyers went over the graphic details of the alleged assault.
The defense, meanwhile, argued that Doe was nothing more than a gold digger trying to spin a night of consensual group sex in her financial favor. "This is a case about money and manipulation," Michael Monico, Hampton's and Allen's lawyer, said in his opening statement, according to the Post. "There was no gang rape. There was no rape at all." 
During opening statements, the defense also touched on the NBA's purported condom policy: That any player who uses a condom during intercourse with a woman either has to flush that condom as soon as possible or take it with him when he leaves the sex scene. McCoy argued that Rose pocketing his used condom was suspect — a point Mark Baute, Rose's attorney, refuted.
"You're doggone right he takes the condom with him," Baute said, according to the Post. "If you're an NBA player, you don't leave your sperm around for someone to get pregnant with it — the stories around this are legion."
More on that condom thing below. 
Victim's testimony
On Oct. 6, Doe took the stand and recounted her story: She and a friend, Jessica Grof, went to Rose's house for a party. Doe drank a lot, and felt it — she reported blacking out, which she said she had never done before. Her memory of the evening is hazy, although she remembers burning her hands picking up stones around a fire pit, according to Deadspin. When she went home, she threw up and passed out; from there, her memory is spotty. 
She did not recall messaging with Rose beforehand, but according to documents obtained by ThinkProgress, the two were exchanging texts until about 2:09 a.m. on the night in question — after which point Rose arrived at her house with the two other men. From that point on, both his calls and his texts went ignored, according to the documents. 
The next morning, Doe woke up with her dress around her neck and her body smeared with lube. According to Deadspin, her roommate informed Doe that the men had been there, and Doe remembered "flashes" of men in her room the night before. She went to work and told her boss what had happened, and although he told her to report the incident to police, she didn't. She told the court that she felt "embarrassed," that she didn't want her family to find out, that she feared retaliation and that she didn't "want to be the reason" Rose, whom she had previously dated, went to prison. She cried throughout her testimony.
According to the Guardian, the defense did not appreciate her tears. One of Hampton and Allen's lawyers asked judge Fitzgerald to make her cry less.
"I'm not going to order the witness not to cry any more than I'm going to order her not to breathe," he replied, according to the Guardian. 
On Oct. 6, Rose's defense team cross-examined Doe. According to Deadspin, they leaned on an-oft deployed argument in rape cases: If the accuser can't remember the encounter, then the accuser can't be sure they didn't consent. They tried to use Doe's text messages to demonstrate she wasn't as drunk as she says she was. They tried to point out places where Doe's testimony didn't add up, but she maintained that she was too drunk to consent.
Rose's testimony
On Tuesday, Rose — who was not present for opening arguments because he was in Houston for the Knicks' preseason opener — presented his version of events: He said that sex started while they were all at his house, where she performed oral sex on him and had intercourse with one of his friends, according to Deadspin. Rose testified that Doe let them into her apartment, and that she told them to come into her room "one at a time." 
He added that she was using a pink vibrator when he entered her room, a detail on which the prosecution pounced: Rose had previously said that he was color-blind, but when Doe's attorneys suggested that he wouldn't be able to identify the sex toy's hue if that were the case, Rose responded that there are "different kinds of color blind."
Rose said that Doe seemed sober to him and that "she seemed to like" having sex with him, according to Deadspin. He cited previous text messages in which Doe had mentioned being "horny" as evidence of consent. He also addressed his failure to respond to her text messages after the encounter.
"I thought she was going to claim rape," Rose said, according to Deadspin. "It looked like a setup."
So, about that condom thing
During his testimony, Rose returned to a point his lawyer raised during opening arguments: the NBA's policy on players' used condoms. Rose pocketed the one he used with Doe.
"In my profession they teach us to make sure you get the condom if you can't flush it," he said, according to the Daily Beast. Rose testified that this is what the NBA's "Rookie Transition Program" taught him and other players to do. 
Mic has contacted the NBA for comment and will update if and when we hear back.
"This girl wasn't someone I was going to introduce to my family or my mom," Rose said, according to the Daily Beast. "... No way I was going to leave a condom anywhere around her apartment. I was trained to do it."
As previously mentioned, Rose's lawyer explained in opening arguments that the reason players either take or flush their condoms is to prevent women from stealing famous athletes' sperm and impregnating themselves with it. That Rose removed his condom from the scene tracks with his lawyers' assertion that Doe is a gold-digger, but prosecutor McCoy argued that he wanted to remove all traces of himself from her apartment.
"You didn't want anybody to know you were there," McCoy said, according to the Daily Beast. Rose countered that he opted to discreetly pocket the condom, rather than asking where the bathroom was, because he was trying to be respectful — but not so respectful as to trust her around a discarded condom.
"You never know what women are up to nowadays," Rose said, according to Deadspin. 
The judge considered a mistrial 
According to the New York Post, the prosecution neglected to hand over three text messages the victim sent to Rose, to be used as evidence. "Why you have me bring a bitch and you ain't finna fuck her," one read, referring to Doe's friend, Grof. The other texts asked Rose to send her money to cover her cab fare from his house and the cost of a "sex belt" she'd brought with her. 
McCoy said he thought he had given the defense the texts along with the rest of the evidence, in time for Baute to prepare his cross-examination, the Daily News reported. Fitzgerald said that if the defense could not prove when they'd produced the messages, he would consider declaring a mistrial. On Wednesday, according to Daily News reporter Nancy Dillon, he ruled that there would be no mistrial — but gave the defense more time to question Doe. 
Hampton said the woman asked for drugs
Hampton, Rose's friend and business associate, testified for a second time Wednesday. 
According to the New York Post, Hampton testified that Doe asked for ecstasy when she walked into Rose's house. He said they did tequila shots and that she gave him and Allen lap dances. Later, they had sex on the cabana bed by the pool; Rose came over mid-coitus, and she performed oral sex on him, Hampton recalled on the stand. 
Hampton said that Doe later called Allen to say "that it was OK for all three of us to come [to her apartment] if Derrick came," according to the Post. Hampton has denied that any of them had given her drugs, and has claimed that their sexual encounters were consensual.
The ecstasy detail is, apparently, a new one: Judging from Deadspin's report, Hampton did not mention her request for drugs during his testimony on Tuesday. He did say the pair had missionary sex on the cabana bed, during which Rose came out and Doe gave him oral sex. But, according to Deadspin, his account differs from Rose's: Rose said the pair were having sex standing up, while Hampton said they had sex in missionary; Rose said Doe was completely naked, while Hampton said she pulled up her dress. 
As Deadspin noted, there were discrepancies between the stories Rose and Hampton told on Tuesday and their pretrial depositions. Both attributed changes in their accounts to nerves. 
The Post also reported that Allen testified Wednesday — his answers to the attorneys' questions leaving "the courtroom in stitches." 
This story will be updated as Rose's trial continues.
Oct. 13, 2016, 5:02 p.m. Eastern: This story has been updated.