Sombra release date: Here's everything we know about the badass new 'Overwatch' character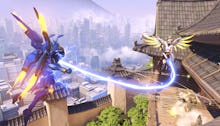 Blizzard has been teasing the new Overwatch character Sombra for months. Fans were hoping to see her included in the new Halloween update, which began rolling out on Tuesday, but unfortunately it looks like they'll have to wait a little longer.
Express suggests Sombra will make her debut — or at least be formally introduced — at BlizzCon 2016, Blizzard's annual gaming convention that kicks off Nov. 4 in Anaheim. Plans for new expansions or updates are typically unveiled at the expo, so the theory certainly makes sense.
Who is Sombra, anyway? 
According to a Polygon source, the character is "one of the world's best and most notorious hackers" who has worked with the Mexican Los Muertos gang seen in the animated short "Hero." Her partnership with Los Muertos apparently continued "until she attracted too much unwanted attention and had to go underground."
"She was later recruited by the Talon organization, the same group that Overwatch characters Reaper and Widowmaker work for," Polygon adds.
The tweet above showcases a purported image of Sombra, who's wielding a a submachine gun and "special gloves." 
Overwatch fans will have to keep waiting for Sombra to enter the game, but they were rewarded with a number of loot box goodies and customized Halloween skins in the new patch. 
Junkenstein's Revenge
A new game mode, Junkenstein's Revenge, was included as well. "Team up with three other players and face off against a host of eerie enemies, including Dr. Junkenstein himself, Junkenstein's Monster, the Reaper, a mysterious witch and host of shambling zomnics," Overwatch's blog reads.
We'll keep you updated on the status of Sombra as BlizzCon draws closer.