Now you can buy the least woke beer, aptly called "Stay Woke"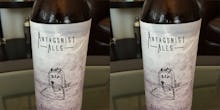 There are many ways to "stay woke" — or remain aware of the challenges marginalized people face — in 2016. You could read the news religiously, or follow thought leaders on Twitter or join protests. But drinking a fancy, precious craft beer called "Stay Woke" is pretty much about the least-woke thing a person can do. 
This isn't stopping two craft breweries — The Veil Brewing Co. of Richmond, Virginia, and NYC-based Antagonist Ales — from producing craft IPAs dubbed after the popular slang term, Fusion reported. The two companies claim that the name has nothing to do with actually remaining woke.
Instead, Veil Brewing Co. said that the term refers to the beer's "dank, intense hoppiness," according to Fusion. Antagonist Ales has an even more obscure explanation for the moniker, noting in its description of the beer on beer site Untappd that it's a reference to the "death" of the company's first attempt to make a beer. 
"Our first beer came up dead. Antagonist Ales needed an awakening," Antagonist Ales noted. "Bursting with Citra hops, Stay Woke claws its way up from six feet deep to provide a pale ale hell-bent on enjoyable consumption," the description continued. 
It's hard to believe that, given today's social climate, not a person at these companies was aware about what the phrase "stay woke" usually means. Fusion added that the name is frivolous and discounts of the gravity of the term, which has been used as a "a warning to others in the aftermath of brutal, racially-charged police shootings." Mic has reached out to both companies for comment. 
The beer companies might be better off taking a page out of Ben & Jerry's book. The ice cream brand has figured out how to remain politically engaged in a way that is informed and substantive, going beyond the act of slapping a trending phrase onto its labels. 
Until these beer makers wake up, we'll pour out a bottle of Stay Woke for all the bad ideas out there.