Rep. Blake Farenthold's response to a question about Donald Trump and rape is truly absurd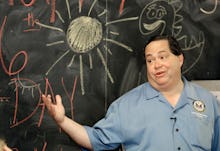 The name Rep. Blake Farenthold (R-Texas) should sound familiar. The Republican congressman was accused of sexual harassment in December and is the domain owner of blow-me.org.
Then it shouldn't come as a surprise that the relentless supporter of Donald Trump said, during an interview with MSNBC's Chris Hayes, that he would only "consider" withdrawing his endorsement of the Republican presidential nominee if an audio tape leaked heard him saying he liked raping women.
The interview is in reference to footage leaked on Friday that revealed Trump telling television personality Billy Bush that he can grab women "by the pussy" and get away with it because he's a celebrity.
"Congressman, if someone off-the-record in a locker room — this is not a locker room, this is a workplace — said, 'I really like raping women,' would that be locker room talk?" Hayes asked in a heated conversation.
"It depends. You don't know the context," Farenthold said.
"If a tape came out with Donald Trump saying that — saying, 'I really like raping women,' you would continue to endorse him?" Hayes asked.
"Again, I — I — that would be bad," Farenthold replied. "I would have to consider — I'd consider it."
After the controversial segment aired live, Farenthold took to Twitter to issue an apology. He said he does not and hasn't ever condoned rape or violence against women, despite the fact he just did a few minutes prior to posting his tweets.
It's alarming to see the lengths Republican leaders and lawmakers will go to continue their support and endorsement of Trump. If banning all Muslims, calling Mexicans "rapists," and inciting violence wouldn't do it — you'd think they'd all finally draw the line when it comes to sexual assault and rape.