Gabrielle Union supports sexual assault survivors boycotting 'The Birth of a Nation'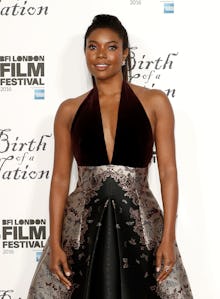 While Gabrielle Union doesn't lend her voice to The Birth of a Nation, playing a slave who is raped by slaveowners, the actress has been vocal about the backlash the film has received in the wake of director, writer and lead actor Nate Parker's 1999 rape case resurfacing. 
Now, with dwindling box office results — and some harsh reviews — from the film's opening weekend, Union is speaking up about those boycotting the film on the basis of Parker's past. Simply put: She supports them.
"As a rape survivor and as an advocate, I cannot shy away from this responsibility because the conversation got difficult," Union told Essence. "I don't want to put myself above anyone's pain or triggers. Every victim or survivor, I believe you. I support you. I support you if you don't want to see the film. I absolutely understand and respect that. I can't sell the film." 
Parker and Birth of a Nation co-writer Jean Celestin were charged with raping a student while they attended Penn State University. Parker was acquitted; the accuser died by suicide in 2012. Parker has maintained his innocence, and instead of apologizing, has tried to talk about ideas like consent and toxic rape culture. But it's Parker's framing of the case that has also drawn critics' ire.
"When I hear Parker say things like, 'Are we in the business of headlines or are we in the business of healing?' I get frustrated, because whatever he meant by it, that kind of false dichotomy is what keeps victims in silence," Vox's Alissa Wilkinson wrote about the controversy. "And without even bringing my religious commitments into it, I think the most troubling thing about all of Parker's words is that they're coming from the writer, director and star of The Birth of a Nation." 
As a result, Parker's film has gone from early Oscar contender to boycotted financial failure — and the film's female stars, including Union, understand where the backlash is coming from.