2016 election predictions: Here's who's likely to take these key states — and the race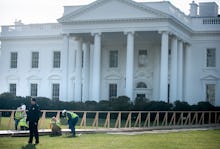 Join us for The UnConvention: an ambitious multiplatform initiative to engage millennials in meaningful civic conversations during this year's election season. 
The countdown to Election Day is in full swing. There are just a few weeks left until voters head to the polls on Nov. 8 and the candidates are scrambling to make the most of each day until then.
All you have to do is take a look at Hillary Clinton and Donald Trump's campaign schedules to see where the real fight for the White House lies.
Clinton is holding rallies in Colorado and Nevada on Wednesday. Her running mate, Virginia Sen. Tim Kaine, is in North Carolina, and her husband, former President Bill Clinton is holding rallies in Iowa to encourage early voting. Trump has three events in Florida on Wednesday before heading to Ohio and North Carolina.
Ohio and Florida projections
Ohio and Florida are longstanding battleground states in presidential elections. Clinton is narrowly ahead in both states, according to the latest polls. 
In a four-way poll which includes the top two third-party candidates, Clinton leads Trump 46% to 42% among likely voters in Ohio, according to a CBS News/YouGov poll conducted from Oct. 5-7. The Buckeye State has 18 electoral college votes. FiveThirtyEight gives Clinton a 67.4% chance of winning the state.
In Florida, Clinton holds the same lead over Trump, 46% to 42%, in a head-to-head race, according to a poll released Sunday by NBC, the Wall Street Journal and Marist. Florida has 29 electoral college votes. FiveThirtyEight gives Clinton a 74.7% chance of winning the state.
"If Clinton wins Ohio, Trump has no path to victory. No Republican has ever won the White House without it, and, particularly in this election, Ohio's demographics should make it relatively low-hanging fruit for the Republicans," according to Larry Sabato and his team at the University of Virginia's Center for Politics. "So we now have Trump as the underdog in Florida, North Carolina, and Ohio, three electoral vote-rich states that he absolutely needs to have any chance to win."
North Carolina projections
Much of North Carolina is still reeling from devastating flooding after Hurricane Matthew, but the state is a key player in this year's election. Clinton has a narrow lead over Trump: According to a recent Seltzer & Company poll, in a two-way race, Clinton leads Trump by just one point.
The state voted for President Barack Obama in 2008, but backed GOP candidate Mitt Romney in 2012. FiveThirtyEight gives Clinton a 70.1% chance of winning North Carolina, where 15 electoral college votes are up for grabs.
Pennsylvania projections
Pennsylvania has voted Democrat in the last six presidential elections, but the battleground state has become more of a battle as working-class voters in the western part of the state lean red. Still, most polls give Clinton a solid lead there. RealClearPolitics' polling average has Clinton up 48.2% to 39% in a head-to-head face-off against Trump.
FiveThirtyEight gives Clinton a 88.9% chance of winning Pennsylvania's 20 electoral college votes.
Other key swing states to watch
Clinton and Trump are tied in Colorado, according to a recent Breitbart News Network/Gravis Marketing poll. In a four-way race with the top two third-party candidates, both Trump and Clinton each received 40% of the vote among likely voters polled and 6% said they were still undecided.
In Iowa, Trump leads Clinton by four points, according to a recent Des Moines Register/Mediacom Iowa poll. The poll was conducted from Oct. 3-6, before the 2005 Access Hollywood tape surfaced showing Trump making lewd comments about women.
Clinton has a big lead over Trump in Michigan, where 16 electoral college votes are at stake. A recent EPIC-MRA poll gives Clinton a 11-point lead in the the Great Lakes State. The former secretary of state is also up by eight points in Virginia.
The latest poll from Nevada shows Clinton with a three-point lead over Trump. And Clinton is leading in New Hampshire by two points, and in Wisconsin by four points.
Who will win the White House?
According to Politico's Battleground States project, which is a weighted calculation of the most recent polls in these 11 battleground states, Clinton will win the election on Nov. 8, but it will be close. The project predicts she will beat Trump with 44.9% of the vote.
FiveThirtyEight gives Clinton an 86.7% chance of becoming the next president of the United States.
Mic has ongoing presidential coverage. Please follow our main election hub as well as coverage of Donald Trump and Hillary Clinton.