Transgender woman found dead in Cleveland, misgendered in initial reports, community says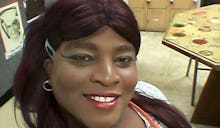 A 32-year-old transgender woman was found dead on Saturday in a suspected homicide, according to Cleveland.com. 
Initial media reports identified the person as a male, but after members of the Cleveland transgender community and loved ones said that the victim was a transgender woman who went by the name Brandi "Chill" Bledsoe, reports began to use her name. 
According to Cleveland.com, in a report that allegedly misgendered the victim, Chill had head trauma and was found dead in a driveway with plastic bags covering her head and hands. 
In a tweet, Twitter user Vita Cleveland said that Bledsoe was misgendered in initial media reports, which got their information from the Cuyahoga County medical examiner. 
The photo of Bledsoe that is being circulated came from this Facebook page, where friends and family had already begun to grieve their loved one. Those leaving messages used female pronouns to refer to Chill. 
When Mic called the Cuyahoga County medical examiner, a communications specialist said Bledsoe still identified as male. The examiner's office said there was no other alias for Bledsoe other than her birth name. 
Bledsoe's cousin John Cragget told Cleveland.com that Bledsoe "wasn't very outgoing" before she came out about her trans identity. 
"She just wasn't happy with who she was," he said. When she told us, she was honestly a lot better as Brandi. She was happy."
He added, "She was really beautiful. She was really sweet and nice. That's what bugs the crap out of me about this. Whoever did this can rot in hell." 
Aaron Eckhart, the training and technical assistance director at the Buckeye Region Anti-Violence Organization, has begun reaching out to members of the trans community to verify Cleveland's claims. The Cuyahoga County police department and the LGBT Community Center of Greater Cleveland did not immediately respond to a request for comment. 
"We are deeply saddened to hear about the loss of Brandi Bledsoe," Emily Waters, senior manager of national research and policy at the New York City Anti-Violence Project, said in a statement. "We continue to send our thoughts to those who have been impacted by the loss of Brandi." 
She added, "We are at a loss, but know that we must continue to say the names of all of the transgender and gender nonconforming people that we have lost, and we must keep working to keep transgender women of color safe. We ask that everyone call out transphobia when they see it and support and listen to transgender people, so that they know that they are a vital part of our communities and that their lives matter."
Bledsoe is the first reported transgender homicide in October. Two transgender women, TT Saffore and Jazz Alford, were killed in September. 
Waters said that this is the 22nd transgender homicide AVP has responded to in 2016, which is equal to the number they responded to in all of 2015. 
This story is breaking and will be updated.