'RuPaul's Drag Race All Stars 2' recap: RuPaul crowns her winner — but which queen is it?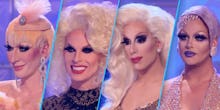 At the end of the day, RuPaul's Drag Race All Stars season two always belonged to Alaska.
The season five runner-up, a smash success off the show, dominated nearly every week, winning Snatch Game, the seasonal acting challenge and the commercial challenge. She also guided fellow season five queen Alyssa Edwards back into the race in a comedy challenge. She was a stellar competitor, showing exactly why she deserves the crown.
In the weeks ahead of the finale, it looked plausible that Katya could win. She came on strong with two straight weeks of top performances. She also was far and away the most popular contestant among fans. 
Meanwhile, Alaska faltered at exactly the wrong time. She threw a tantrum, offering to bribe her way into the top four. Her behavior shocked fans, and while she did some smart damage control, donating $10,000 to charity to support trans youth, the fact was that, headed into Thursday's episode, Katya was the favorite.
So how did Alaska wind up the winner? Read on to find out.
Thursday's episode features a challenge in three parts: writing and recording a rap verse to be included in RuPaul's new single "Read U Wrote U," performing that song on the main stage and appearing as a guest on Ru and head judge Michelle Visage's podcast What's the Tee? Then, naturally, there's a final runway, with a chance for each queen to plead her case.
Three queens basically perform well across the board: Detox and Katya are consistently great, while Alaska fouls up on the podcast. Roxxxy Andrews, bless her, doesn't quite measure up. The entire episode gives the impression that Roxxxy is working on a different level; in one scene, Detox, Katya and Alaska discuss how strange it would feel if Roxxxy won. Sure enough, right before the queens to Lip Sync for Your Legacy, Ru dismisses Roxxxy from the runway, leaving her to place fourth.
Roxxxy has matured much since her season, and her win in the first episode ranks as one of the most heartwarming moments of the season. She is talented, and her drag is stunning. But she wasn't at the caliber of the other top queens this season. Frankly, she deserved a more flattering exit than being dragged into the top four by her friends only for Ru to finally send her home.
Alaska's narrative dominates much of the first half of the episode, particularly when she breaks down upon realizing that just like season five, Rolaskatox is facing down a lovable oddball. She regrets ever forming the season five clique, calling it "embarrassing." Her fears seem to be that she's made a game-ruining mistake all over again, but Detox resents Alaska's implication that her friendship with them is what's going to cost her the crown.
After a short fight with Detox, Alaska comes around to embracing Detox and Roxxxy as her friends and apologizing for her behavior. "I love you so much, and I don't want to feel like that is the disadvantage to us winning," Alaska says, crying. "I really am glad you're here."
Eventually, Alaska does get it together, kills it on her rap and is a standout on the runway. Her final look is easily the most glamorous she's ever been, and she gives an impassioned speech when asked why she should win that would impress even the staunchest of Drag Race nerds:
Yes, I've thrown fits. I've thrown tantrums. Perhaps I'm just a RuPaul's Drag Race-obsessed superfan. Was I obsessed when Shannel was Miss Absolut Mandarin? Yes gawd! Was I obsessed when India Ferrah and Phoenix walked into the workroom in the same wig and the same outfit? In the words of Gia Gunn: Absolutely. So it is my fanatical devotion, and my undying love and respect for the world RuPaul has created here, that puts me wig, head and shoulders above any competitor. Look into your hearts, where you will find that the only inductee into the RuPaul's Drag Race Hall of Fame is I, Alaska! Halleloo, yes gawd, okcurrrr! *tongue pop*
It's the kind of speech that feels perfect for a season that was built for Drag Race superfans. Alaska gets what All Stars 2 is. It's about referencing the history of this show as much as it is competing in the present. She makes a strong case that for this particular competition, she's the correct winner.
Meanwhile, Katya's arc is a steady one throughout the episode. She's a total blast on the podcast with Ru, speaking eloquently about her journey from anxiety-ridden competitor in season seven to someone who's conquered her "inner saboteur," as Ru loves to put it. It helps that Katya is also hilarious.
She's a standout during the "Read U Wrote U" performance, using both her Russian character and gymnastic skill to great effect. Her speech is easily the most touching, balancing humor with deep emotional resonance, even breaking from her Russian character when she gets deep. 
"In season seven, you let me show the world that I'm good enough," she says, choking back tears. "And here, you let me believe it myself. And I can't thank you enough for that."
Katya's the real deal. Back in season seven, viewers were clamoring for her to win — but frankly, she wasn't quite in the same league at that point as winner Violet Chachki and runner-up Ginger Minj. She was a dynamic personality, but her work in the challenges wasn't as impressive. This time around, however, Katya proved that she's a star on stage and off. If Alaska is the right winner for All Stars 2, Katya is the right winner for herself — and for the fans.
Detox joins Alaska and Katya in the top three, but she never quite feels like a threat for the crown. Her runway is sickening, as always. Her performance in the challenge is solid across the board. Her speech is maybe a bit underwhelming, but nothing terrible. She is the definition of a strong but unexciting competitor.
Watching Alaska and Katya compete — hell, watching eliminated contestants like Alyssa Edwards, or Tatianna, or even Phi Phi O'Hara compete — is exhilarating. They have surprises; they bring a sense of joy to the stage. Detox is technically on point, but emotion just doesn't come through in the same way.
It is easy to believe her when Detox says she really wants to win this, and she certainly has improved from season five. She is deserving of her top three spot, making her one of four queens (along with Alaska, Katya and Alyssa) to improve her placement this season. But it's fair and just that she doesn't win. She deserves all her success, but this was ultimately Katya and Alaska's battle.
Alaska wins out, and it's tough to deny that it was always hers. Some fans will be disappointed — she was bribing a competitor one episode before winning, after all — but she competed like few others in Drag Race herstory. Her record is a testament to the kind of queen she is: passionate, fierce and unique.
Overall, All Stars 2 was a major success, infinitely better than the first All Stars season four years ago. It may be the best season ever of Drag Race; it's certainly up there with season five. Perhaps it's not coincidence that All Stars 2 featured five queens from that season — casting matters, after all.
There were issues, of course: The Lip Sync for Your Legacy format, though thrilling at times, ultimately led to top four-worthy queens Alyssa and Tatianna getting sent home before Roxxxy (and even Detox). Also, Rolaskatox refusing to send each other home kept the final weeks of competition from hitting the highs of the early season.
But overall, RuPaul and her producers — and, most importantly, her queens — put together a remarkable season not just of reality TV, but TV altogether. As a story, as a competition and as an exhibition of talent, RuPaul's Drag Race All Stars 2 was a smash success. Now, we can only wait until season nine debuts next year — and spend our time dream-casting All Stars 3, of course. Can you say "justice for Chi Chi DeVayne"?