Evan McMullin polls, platform and where he stands on the big issues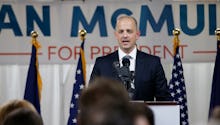 With Donald Trump's poll numbers collapsing — Hillary Clinton now leads the Republican by more than five percentage points in national surveys — a new poll released Wednesday sent further shockwaves through the presidential race: Evan McMullin, a little-known independent presidential candidate, is statistically tied with Trump and Clinton in Utah. 
As McMullin's campaign readily acknowledges, the candidate has a name-recognition problem. Only 52% of Utah voters in the poll said they know who he is. 
But the former head of policy for House Republicans did not join the presidential field in early August to win the electoral college. Instead, McMullin wants to make a play at preventing Trump or Clinton from winning 270 electoral votes. By winning his home state of Utah, a reliably Republican state, McMullin aims to stall Trump's path to 270, while simultaneously hoping Clinton loses key swing states to Trump. 
Who is Evan McMullin?
A former clandestine CIA operative who has never held elected office, McMullin filled a void many Republicans saw in the presidential race. For months, establishment Republicans like Bill Kristol had been seeking a candidate who could be an alternative to Trump. The #NeverTrump movement eventually settled on McMullin. 
McMullin had almost zero public profile before his election announcement. But as the chief policy director for the House Republican Conference, he has articulated a conservative vision for the GOP inline with Paul Ryan, Mitt Romney and other establishment Republican leaders. McMullin is also Mormon, another plus for his supporters, who hope to put Utah in play on election day. 
Where is Evan McMullin's support?
A month ago, polls had Trump leading Clinton by nine points in Utah. McMullin registered 12% support in early September. Now, McMullin registers 22% support while Clinton and Trump are tied at 26%. 
National polls have shown McMullin with no more than 2% support. But state polls are more consequential, especially for a third-party candidate with a specific focus like McMullin. If McMullin won Utah, it would be the first time since 1968 that a third-party candidate has won electoral votes. 
What is Evan McMullin's platform?
McMullin holds some conservative positions that Trump has repeatedly touted. He says he wants to repeal Obamacare and strengthen the American military.
But he breaks with Trump on issues of immigration and trade. McMullin supports free trade agreements, like TPP, and says he wants to help people who are in the U.S. illegally with moving toward citizenship. On the economy, McMullin espouses a traditional Republican platform or lowering taxes and regulations to create jobs. 
So far, McMullin's policy positions have faced minimal critique. Instead, the candidate has been busy painting himself as a viable alternative to Trump in Utah and a candidate worth voting for in states where McMullin has no chance of victory.