Will Hurricane Nicole hit the US? Here are the latest updates.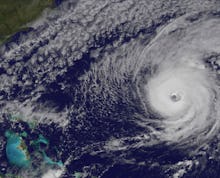 Uncomfortably close on the tails of Hurricane Matthew comes Hurricane Nicole, which — while not currently forecast to hit the United States — is expected to hit Bermuda on Thursday. According to the Weather Channel, a hurricane warning is in effect there in anticipation of the possibly Category 3 storm.
The island of Bermuda lies about 650 miles off the coast of North Carolina, which was badly damaged by Matthew over the weekend. According to NBC, the most recent death count at time of writing is 19 within the state, due mostly to the extreme flooding Matthew left in its wake. Over 100,000 people have been left without power in North Carolina, while nationwide, 38 people total have died as a result of Hurricane Matthew. 
In Florida and up the southeastern coast, flooding remained a serious problem for days, while in Haiti, the death toll has amounted to over 1,000. 
Nicole looks like it will miss the areas hit hardest by Matthew, based on a visual projection by AccuWeather. The Weather Channel predicted that tropical storm conditions (winds between 39 and 73 mph) will arrive Wednesday night, to be replaced by hurricane conditions (winds over 74 mph) by Thursday morning. Nicole, currently a Category 2 hurricane, is expected to bring heavy rain and storm surge and has the potential to turn into a Category 3 storm.
But those still reeling from last weekend's storm can breathe easy for now. With the storm predicted to drift further northeast into the Atlantic, it looks like Hurricane Nicole does not have its eye trained on the U.S.