'The Accountant' reviews: What critics are saying Ben Affleck's new film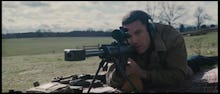 Ben Affleck is kicking ass and crunching numbers, and he's all out of numbers. At least, that appears to be the case in the actor's latest film, The Accountant, which makes its way to theaters Friday. But is Affleck's latest offering an improvement over his work as Batman in Batman v Superman?
Unfortunately, it doesn't seem so — and The Accountant doesn't add up as a good movie, either. The film currently holds a 29% "rotten" rating on reviews aggregator Rotten Tomatoes. Ironically, however, part of The Accountant's failure could be attributed to the way it treats its number-crunching protagonist as a superhero — with superpowers!
Below, you can check out some of the early (negative) reviews of the film. 
The Daily Beast's Jen Yamato noted how the film attempt to create an assassin with autism with Affleck as the lead, but the actor struggles in the part:
There's as much Taken as there is Rain Man to be found in The Accountant, a frequently frustrating but surprisingly entertaining genre mishmash that's at least upfront about its central conceit: Ben Affleck is definitely, 100% going for it as Hollywood's first autistic assassin ... But Affleck struggles to convey how viscerally discomfited the guy is by most social settings and how longingly he would love to feel the human connections that elude him. It's not a good look for him since he manages to muster only a few variations on the same stoic gaze through two hours and change onscreen.
While Entertainment Weekly's Leah Greenblatt thought the movie's premise was absurd, she found its execution better than Affleck's Batman-starring example:
Director Gavin O'Connor seems to know at some level that it's all camp, though it's unclear where he picked up certain elements of his medical definition of autism, or why Wolff's military-officer dad decides that the best response to his son's diagnosis is to train him to be a sharpshooting, Muay Thai-kicking assassin — aside from the fact that it works out super well for the plot. The whole thing's ludicrous, down to the last loony twist, but it's also a lot more fun than Batman v Superman.
Similarly, LA Weekly's Alan Scherstuhl finds fault in the narrative for treating autism like a superpower, and giving an absurd perspective as to what an accountant actually does:
The Accountant is about autism — and accounting — the same way a Batman movie is about bats. Those elements spice a warmed-over dish but don't deeply flavor it. You know that brief feeling of hope when you saw the poster or preview for this and realized we were getting a studio thriller that's not a sequel or reboot? In actuality it may as well be.
In one of the more positive reviews of the film, the Wrap's Alonso Duralde doesn't deny its silliness, but also doesn't believe it gets in the way of the entertainment value of an accounting assassin: 
The Accountant shouldn't add up, but somehow it does. Whether or not audiences warm to a hero who's equally skilled at tax codes and tae kwon do, the filmmakers certainly can't be accused of going for the tried and true.
The Accountant arrives in U.S. theaters Friday.