Trump's pussy-grabbing comments are now a powerfully stupid video game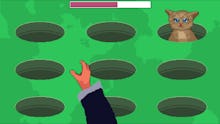 The leaked audio of Donald Trump making sexist remarks about women — remarks that describe sexual assault — have prompted more than 3,000 sexual assault survivors to write an open letter to the Republican party. One conservative voter launched a tweetstorm calling out male GOP leaders to pull their endorsements of Trump. And GOP Arcade — the game company behind Epipen Tycoon and Angry Olds — created a forcefully futile game inspired by Trump's now-infamous "grab them by the pussy" line.
The game is called Trump's Pussy Grabber. It's like Whac-A-Mole, only instead of a mallet and burrowing creatures, you're equipped with orange-tinted baby hands to grab at mewling cats.
Playing Trump's Pussy Grabber: I clawed at the cats hoping for some type of message to surface, some validation for taking part in what appeared to be a grotesque gamification of the most disgusting phrase to emerge from this election cycle. Instead, when the game ends, it gives you a meaningless score and says, "We were going to try to make a point here, but fuck it."
I was trying to make a point here, and it's this: Trump's comments are not funny. They aren't worthy of a lighthearted remix absent of a more powerful message or takeaway. Like Whac-a-Mole, gamifying the Republican presidential candidate's misogynistic depiction of sexual assault is a futile task at best. At worst, it's downplaying rape culture.