Hurricane Nicole 2016: Path, trajectory and where it is headed next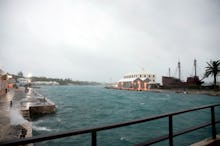 Hurricane Matthew may have left the Caribbean, but now the Atlantic islands are facing a new natural adversary: Hurricane Nicole, which is forecast to hit Bermuda on Thursday.
Nicole could bring at least 74-mph winds and powerful rain to Bermuda, a British island territory about one-third the size of Washington, D.C. with a population of roughly 65,000. The storm currently boasts 100-mph, according to USA Today, making it a Category 2 hurricane.
Right now, Nicole is moving north at a rate of 8 mph, according to a National Hurricane Center bulletin. It's possible Bermuda could sustain tornadoes, dangerous surf conditions, destructive waves and up to eight inches of rain. 
According to NHC forecasts, Nicole's current trajectory places it away from major islands by Monday morning. 
In the meantime, officials recommend residents of Bermuda brace for a powerful hit. Public schools in Bermuda will be closed Thursday and Friday; government offices are closed Thursday; and the Royal Bermuda Regiment, Bermuda's only military unit, will be deployed to offer support starting Wednesday night, the Royal Gazette reported.
"Nicole is a serious threat to Bermuda, and we cannot afford to have complacency with this storm," Senator Jeff Baron, Minister of National Security, told the Royal Gazette. "I cannot emphasize enough the critical importance of residents securing their homes and completing their preparations well in advance of this storm."