Trump vs. Clinton: Polls show candidates' gap widening nationally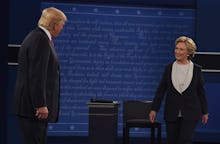 By definition polls are a snapshot in time. And, as this election continues to etch its mark into the presidential history books, recent polls are indicating a shift among American voters.
And they're leaning toward her.
Hillary Clinton's national lead grows
Hillary Clinton has seen a notable bump in the polls recently, some by as much as 14 points over Donald Trump.
In a new Reuters/Ipsos poll released Wednesday, Clinton leads Trump by seven points nationally in a head-to-head matchup.
A Rasmussen poll, also released Wednesday, shows Clinton with a four-point lead over Trump. An Atlantic/PRRI poll released Tuesday found Clinton ahead by 11 points. An NBC News/Wall Street Journal poll on Monday showed the former secretary of state up by 14 points over the real estate tycoon.
How the #TrumpTapes are affecting the polls
What's important to note is that these polls were all conducted after a video leaked showing Trump talking about women in a crude manner back in 2005.
Nate Silver, editor-in-chief of FiveThirtyEight, noticed a trend among women vs. men, specifically in the Atlantic/PRII poll that indicates women are increasingly against Trump.
"It seems fair to say that, if Trump loses the election, it will be because women voted against him," Silver wrote.
Just last week, most major national polls had Trump and Clinton within just a few points of each other, according to RealClearPolitics.
Mic has ongoing presidential coverage. Please follow our main election hub as well as coverage of Donald Trump and Hillary Clinton.