Wells Fargo CEO John Stumpf retires following scandal over sham accounts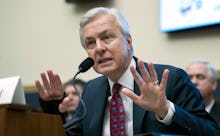 Wells Fargo announced Wednesday that CEO John Stumpf is retiring, "effective immediately," according to a statement the bank shared with Mic via email. 
Stumpf's retirement comes just weeks after Wells Fargo received the largest fine in the history of the Consumer Financial Protection Bureau, following revelations that the bank's employees had set up millions of fake accounts its customers didn't want.
The bank also recently faced heavy penalties for illegally overcharging and repossessing cars from members of the military.
Public pressure on Stumpf has mounted, with Democratic presidential nominee Hillary Clinton saying it was "hard to imagine" executives at the company were unaware of the company's sales practices — and Massachusetts Senator Elizabeth Warren has openly called for Stumpf's resignation.
The scandals prompted Wells Fargo's board to "claw back" more than $41 million in compensation from Stumpf.
Stumpf will be replaced by Tim Sloan, Wells Fargo's current president and COO, who was widely expected to succeed Stumpf when he retired, according to reports from the Wall Street Journal. 
"While I have been deeply committed and focused on managing the company through this period, I have decided it is best for the company that I step aside," Stumpf said in a statement. "I know no better individual to lead this company forward than Tim Sloan."
But Stumpf — who was last year's highest-paid U.S. banker — isn't out of the woods yet: CNBC reports there have been "additional requests for information" from both the House and the Senate. 
At this point, it seems safe to say Stumpf may enjoy a pretty comfortable retirement: According to the research firm Equilar, the former executive could walk away with up to $137.1 million, Marketwatch reports.
October 21, 2016, 8:47 p.m.: This story has been updated.