7 transgender models speak out about why 2017 will be their year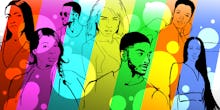 Being transgender used to be the kind of thing that could make a modeling career come tumbling down. 
There was Vogue model April Ashley, whose career abruptly ended in 1961 after being outed by a friend. Then there was Tracey "Africa" Norman, who modeled for Italian Vogue and Harper's Bazaar and was outed in the early 1980s, signaling the end of her career as well. 
Times have thankfully changed. Not only is Norman back in the spotlight but there is now a new league of people who are trans and killing the modeling game. Hell, there's even a modeling agency, called Slay Management, specifically for trans models. 
To get a peek into this ever-growing industry, Mic spoke with a number of trans models working today. Here, seven models — including Laith Ashley De La Cruz, Isis King, Arisce Wanzer and Dominique Jackson, who are signed to Slay and star in the trans modeling TV show Strut — speak about what they hope to achieve in 2017, and how the progress thus far in the trans modeling industry is helping them achieve those dreams.
Laith De La Cruz 
"It's the official campaigns that I want," Laith De La Cruz, one of the first trans models to land a national fashion campaign and who has appeared on the cover of Attitude magazine, said. "I'm not going to limit myself. I want it all. I want the big Gucci campaign, and I want to be in the commercial stuff at the mall. I want people to see me." 
Isis King 
"If you're a trans model, you have to be the fiercest model on the runway," Isis King, who made history as the first transgender contestant on America's Next Top Model and appeared in an American Apparel campaign, said. "You have to bring it. And I think that people are starting to realize like wow, these models are very exceptional. We're more than capable. I see a lot of hope for the future because I was in the generation where one or two of us were on TV and had this slow progress. Now, it's so clear that this is going to work." 
Benjamin Melzer 
"I think the industry is changing. When it comes to modeling, of course it's still about beauty and sizes, but that's no longer the only factor. Personality, story and following also contribute to a model's value for a client and transgender models bring a lot of that to the table," Benjamin Melzer, who made history as the first transgender model on the cover of Men's Health in Germany, said. "The world is changing. I'm working very hard to play my part in a positive change. I want to open doors for the younger ones. My dream is that collectively we can remove the glass ceiling for transgender models in the industry."
Maya Monès 
"We're all in this together, literally. So you can't ignore us," 22-year-old Maya Monès, who's walked for Gypsy Sport and Chromat and has appeared in a spread for CR Fashion, said. "You cant hide us. We're here. People are going to realize the beauty in between boy and girl."
Arisce Wanzer 
"I want to pave the way for women everywhere," Arisce Wanzer, who's been modeling since she was 17 and appears on the TV show Strut, said. "We shouldn't take shit from anybody. I want people to know that when people say no to you, that means you can't do something for them. We need to be in catalogs. We need to be selling dish soap. We need to be in Charmin toilet paper commercials. I want to dominate." 
Loiza Lamers 
"Transgender men and women are fighters by nature. We have been fighting for our place in society since birth, so when it comes to this industry, we are willing to go the extra mile and take nothing for granted," Loiza Lamers, who made history in 2015 as the first transgender model to win Holland's Next Top Model, said. "These days when people view a big campaign with a model, the first thing they want to know after the clothes is who is that in the campaign. Being transgender, the answer is often very interesting for people, and they want the whole backstory."
Dominique Jackson 
"There is much less stigma. Now designers invite you to walk their shows, making you feel that you have value instead of them feeling that you are a huge risk to the advancement of their careers," Dominique Jackson, an activist and author who's been modeling for more than 20 years, said. "I believe that we are putting our truth out to the world so that the fashion industry and the world can get over the pretentious shock that we do exist and many of us can continue to work in the fields that we are so well-built and created to execute. Modeling isn't taught; it's manifested and nurtured."