A 'People' reporter is the latest to come forward, accusing Trump of sexual assault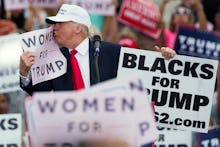 Donald Trump's hot mic scandal has catalyzed accusations from women saying they were sexually assaulted by the Republican presidential candidate. The most recent of these is Natasha Stoynoff, a former People magazine reporter, who wrote an essay for the publication late Wednesday night, detailing how Trump sexually assaulted her while she was on the job. 
Stoynoff worked the "Trump beat" for the magazine in the first half of the '00s: When she went to interview him and Melania in their home for their first wedding anniversary, Trump assaulted Staynoff. It was 2005 — the same year the Trump tapes were recorded. 
When a heavily pregnant Melania retired upstairs to change outfits for the photoshoot, Trump insisted on giving Staynoff a tour of the house, the reporter recalls. He led her to an empty room, shut the door "and within seconds he was pushing me against the wall and forcing his tongue down my throat," she wrote in Wednesday's damning essay. 
When Melania returned, "Donald instantly reverted back to doting husband mode, as if nothing had happened, and we continued our interview about their wedded bliss," Staynoff added. It was a difficult interview to conclude and after the feature was done, she asked to be moved to a different beat. 
Earlier on Wednesday, the New York Times published accounts of two women, Jessica Leeds and Rachel Crooks, who also describe being sexually assaulted by Trump. 
According to the women's respective expositions, Leeds was assaulted more than 30 years ago on an airplane when she happened to be sitting next to him in first class and Trump began groping her. He also forced himself on Crooks, then a young receptionist in Trump Tower, kissing her without consent. 
"He was like an octopus," 74-year-old Leeds said of the incident in her interview with the Times. "His hands were everywhere."
Early Thursday morning, Trump's lawyers threatened to pursue legal action if the Times didn't retract the story and apologize for it. 
Trump's most recent round of trouble began on Friday, when the now-infamous tape recording from 2005 was leaked, during which Trump (who appeared to be unaware his mic was hot) told former Access Hollywood host Billy Bush the ostensible billionaire could "grab [women] by the pussy" with impunity because of his fame and fortune. It has since begun to unravel both the campaign and the candidate himself.