Bob Dylan was just awarded the Nobel Prize in literature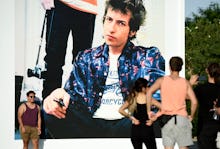 The Swedish Academy shocked the world early Thursday morning with its unusual decision to award the Nobel Prize in literature to U.S. singer-songwriter Bob Dylan.
He was awarded it "for having created new poetic expressions within the great American song tradition," the Swedish Academy's press release said. 
As of Thursday morning, the 75-year-old musician was formally propelled into the Western literary canon, with the likes of past winners such as Gabriel García Márquez, Harold Pinter, Jean-Paul Sartre and Doris Lessing — not to mention the last American to receive this award 23 years ago, Toni Morrison.
Dylan's music has been inextricably bound with the political, many songs of which became part of the civil rights movement, for example, and resistance to the Vietnam War. 
When asked if the decision to award Dylan had expanded the scope of what literature means to the Swedish Academy, its permanent secretary, Sara Danius, refuted the suggestion. 
"It may look that way, but really we haven't," Danius told reporters after the announcement. 
"If you look back, far back, 2,500 years or so, you discover Homer and Sappho and they wrote poetic texts that were meant to be listened to, they were meant to be performed, often together with instruments," she added. "And it's the same way with Bob Dylan. ... He is a great poet in the grand, English poetic tradition."