The latest trailer for 'Rogue One: A Star Wars Story' just dropped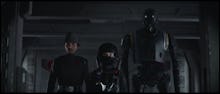 After unveiling a stunning new poster for Rogue One: A Star Wars Story on Wednesday, Lucasfilm followed up with a brand new trailer for the coming epic Thursday morning. The film is the first of three planned anthology spinoffs for the franchise, taking place before the events of A New Hope, in which the Rebels — led by Jyn Erso (Felicity Jones) — conspire to steal the plans for the Death Star. 
The latest trailer gives fans the first on-screen look at Erso's mysterious father, played by Mads Mikkelsen. He's captured by the Empire while Erso is a child, and it's clear whatever scientific work he pursued with them was influential in the construction of the first Death Star. 
We also get our second brief glimpse of Darth Vader, who will be making his highly anticipated onscreen return. We don't get any dialogue from the iconic villain, but we do get a tease of his signature, ominous as all hell breathing. 
You can check out the new trailer for Rogue One — coming to theaters Dec. 16 — below: