Hillary Clinton news: Here's the latest from the Clinton campaign trail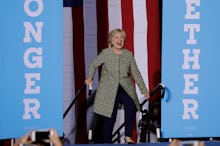 As Hillary Clinton opened up a clear lead over Donald Trump nationwide, the Democratic presidential nominee has campaigned vigorously since Sunday night's debate. She has appeared in several states, introduced a new proposal to fight poverty and continues to hammer Trump in new ads. 
Here's how Clinton has looked to capitalize on her momentum over the past few days on the campaign trail. 
Clinton leads in swing state spending
Clinton has led a Democratic spending spree across the country following several days of mayhem for Trump. This week, Clinton will outspend Trump on advertising in several key swing states by hundreds of thousands of dollars, according to Bloomberg. Overall, Clinton has spent more than $144 million on TV ads. Trump has spent nearly $32 million on ads. 
The Democratic party is following Clinton's lead in the wake of last Friday's #TrumpTapes leak. Politico reported Thursday that Democrats have launched four new ads in competitive House races in the five days since the 2005 video went viral. And the Washington Post notes Democrats in competitive races are linking Republicans to Trump with the goal of retaking control of the House.
Democrats in Senate races also aim to capitalize on the video's leak. In New Hampshire, Republican Kelly Ayotte has come under attack from Democratic challenger Maggie Hassan for saying she would "absolutely" point to Trump as a role model. After the release of the 2005 video, Ayotte withdrew her support for Trump.
Hillary Clinton campaign stops
Since Saturday, Clinton has visited Colorado, Michigan, Nevada and Ohio. She visited New Hampshire multiple times. Wins in two or more of those states effectively closes Trump's path to 270 electoral votes. Recent swing state polling shows Clinton widening her lead in those states — and retaking the lead in Ohio. 
Clinton unveils new anti-poverty proposal
Earlier this week, Clinton announced what many have called an aggressive change to how the federal government fights poverty. According to Vox, Clinton wants to target poverty among extremely low-income families by giving every family access to the child tax credit.
Now, only families that make $3,000 a year or more qualify for the credit. But under Clinton's proposal, families could take the tax credit with the first dollar they earn. And her plan would increase the amount of money families with young children or low incomes can receive with the tax credit.