Misty Knight costume: How to look like your favorite 'Luke Cage' character this Halloween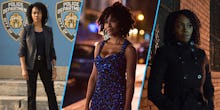 If you've managed to watch just a single episode of Netflix's Luke Cage series, you know that Misty Knight, as played by Simone Missick, is its breakout star — a woman who calls Luke Cage on his shit, a detective with an ironclad sense of loyalty and a craving for justice. 
"I don't just seek justice. I stalk it," she tells Luke Cage. Though in the show she's without her signature red suit and bionic arm, she's the standout star in her glitzy dresses and no-nonsense suits. She's the 21st century's answer to Sherlock Holmes, only cooler. 
And that's just a few of the reasons why we love her so, and also why she'd be a great Halloween costume for the laziest among us. 
To help you on this journey to becoming Misty Knight, we've rounded up a few items that could help you encapsulate her look. 
Misty Knight's blue dress
The first time we meet Misty Knight, she's sitting at a bar in a curve-hugging blue and jewel-encrusted dress. The blue could have been a hint to viewers that she was a cop, but pay that no mind. If you're trying to replicate this look on Halloween, here's what you'll need: 
1. A sparkly blue dress. 
Remarkably, we found a number of cost-effective sparkly blue dresses at ASOS, all for under $100. There's this blue sequin slip dress for $57. Then there's these two long sleeve blue sequin dresses for $57 or $24, which is a steal. An honorable mention: this body-hugging dress from Lulus for $63. 
2. Sensible black heels 
There's probably a suitable pair of shoes in your closet already, but if not, here is a pair of sensible black shoes (remember: the higher the heel, the closer to God) for $16.99 at Forever21, and another for $14.99 at H&M. 
To top off the look, make sure your hair is curled and you come equipped with a clutch. 
Misty Knight's black peacoat 
Again, Knight's character dresses like a lot of women in America, so you might already have this high-neck black peacoat, but if you don't, here are a few cheap options for you. 
There's this Calvin Klein peacoat with a high neck for a super reasonable $54.99. There's also high neck options at H&M for a steeper $69.99 and $119. And over at ASOS, there's this simple peacoat for $81. 
To complete this look, you can slip into a dark gray T-shirt and black pants, which are way easier to find than this black peacoat. 
Misty Knight's no-nonsense suit 
Think about this: Misty Knight is like Harlem's Hillary Clinton — well, mostly just in that she loves pantsuits. To recreate her look, first you'll need a simple grey blazer. We found cheap options over at Zara for $49.99, as well as Target for $29.99 and Kohl's for $44.99. 
Next, you'll need a normal-looking pair of black slacks. We found good options at ASOS for $11.50 and $12. (That's just ASOS for ya, guys.) To finish the look, you'll just need a black T-shirt and a belt, which can also be cheaply found at ASOS for $13. 
Since wearing clothes like this could make people think you're on your way to a Bat Mitzvah or something, we also recommend wearing something that makes people know you're dressed as a cop. So, here's a police kit meant for children that you can get at Walmart for $4.99. 
Though Luke Cage's Misty Knight is perhaps the easiest superhero ever to emulate (because she doesn't actually dress like a superhero), rest assured that fans of the show will appreciate the effort.