Curve model Barbie Ferreira gets real about the importance of representation in fashion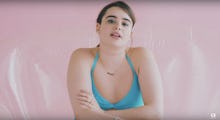 Curve model Barbie Ferreira has never been afraid to speak her mind. She's been outspoken about what it's like to be a model who's not quite straight size, but not plus size either. She's gone on tweetstorms about just how unfair it is that women who aren't a size 2 (like Leslie Jones) have such trouble finding red carpet-worthy gowns. 
And now in a new video for Teen Vogue, Ferreira, who has posed for Aerie, Target and Lane Bryant,  is getting real about just how important it is for young women to grow up seeing women like themselves in the media. 
"Looking at magazines and being someone who wanted to act as a kid, I was very much influenced by things I saw," Ferreira says. "So, I think due to the lack of representation I was insecure, definitely. I had a lot of difficulty growing up in a society where everything is very closed-minded, especially with beauty."
"Representation is something that is so important," Ferreira continues. 
"Seeing someone that you can relate to in the media is everything as a child and a lot of people are not granted that luxury." 
In addition to Ferreira, four other women weigh in on the many different facets of body positivity in the video, including Mina, a model and vocal body positive advocate. During her portion of the video, she speaks out against brands who are attempting to market themselves as body positive, but don't stock plus-size clothes. 
"One minute they're all about respecting all body types and the next minute it's just like, you don't make clothes for all body types," Mina says. "So you can't be not genuine and try to stand up for these things because it's going to show right away." 
There's also Torraine Futurum, a trans model who's just now breaking into the scene. In her portion of the video, she speaks out about fashion's faux obsession with diversity. 
"When people talk about diversity, they kind of have one specific thing. It's like oh, there are going to be black models on the runway now. Or like, trans people are cool now. When it should just be like, all people ... should be accepted as valid and human." 
But it's the words of Ferreira, who will be the host of this series of videos on body positivity for Teen Vogue, that anchor it. After each of the women speak their mind about the body positive movement today, and the importance of acceptance, Ferreira explains why it is so meaningless to obsess over not looking perfect according to whatever standards society is giving us now. 
"You have you and your body. It's there to fight off sicknesses. It's there to move you to work, to go have fun and see your friends. It's like, what are you going to do?" Ferreira asks. "You're going to have this body for the rest of your life. You're going to be miserable for the rest of your life? You're going to let these people take your worth from you because of the way you look? It's just meaningless. There's so much more to life than how you look." 
Coming from Ferreira, who's just 19 years old, that's a powerful thing to hear. 
You can watch Teen Vogue's entire video below: