The response to the Trump assault allegations reveals why most victims don't come forward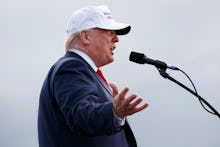 Amid Republican presidential candidate Donald Trump's continued insistence that his comments making light of sexual assault add up to nothing more than "locker room talk," at least three women have come forward accusing the Republican nominee of exactly what he described.
On Wednesday, the New York Times published interviews with Jessica Leeds and Rachel Crooks, both of who say Trump groped or kissed them without their consent. That same evening, People magazine published a first-person account of writer Natasha Stoynoff's own such encounter with the candidate.
The allegations were hardly surprising to those who had no doubt someone harboring such sexist attitudes and repeatedly making predatory remarks would be capable of sexual assault. But an overwhelming number of people immediately challenged these fresh claims, casting doubt on them based on their timing in relation to the forthcoming election.
Why hadn't they come forward before?
The answer, of course, lies in the response itself. Thursday morning, the hashtag #NextFakeTrumpVictim flooded Twitter, providing a glimpse into the overwhelming skepticism and victim blaming Leeds, Crooks and Stoynoff are up against.
Many Twitter users accused the women of seeking media attention or using their "fake" accusations to distract from Hillary Clinton's campaign, or the latest Wikileaks dump. Others thought it was suspicious that the women brought their story to the Times and not the police.
Trump surrogate Newt Gingrich dismissed Leeds' story of being assaulted while flying first class next to Trump as nothing more than a "bad airplane flight." In a Fox Business segment, Gingrich maintained, "This is not the Donald Trump that Callista and I know." 
And, of course, the Trump campaign has vehemently denied these women's claims, threatening to sue the Times for running what they term "fiction."
While not all sexual assault survivors' stories will rise to the level of national news, the majority of survivors who speak out can expect to face similar doubt, name-calling and harassment as Trump's accusers — which is exactly why two-thirds of sexual assaults go unreported, according to the Rape, Abuse & Incest National Network. 
"It's pretty typical that when survivors come forward they're revictimized either by social media and the press or by law enforcement and the court system," Lisa Maatz, vice president of government relations at advocacy at the American Association of University Women, said in an interview. "That's a big part of why a lot of women choose not to come forward."
"There are all kinds of cultural forces at work that try to blame the victim and put her on trial instead of the alleged perpetrator," Maatz continued.
There's no payoff for women who come forward about their assaults, especially when their allegations are against a man as wealthy and powerful as Trump. "They knew what the risks would be," she said.
Maatz said the notion that Trump's accusers are pursuing money or fame is completely baseless — these revelations arrived long after the statute of limitations had passed and they've have made no mention of any financial compensation. 
In fact, they've made their motivations quite clear. Leeds said she was incited by Trump's denial that he's ever committed sexual assault at Sunday night's debate.
"I wanted to punch the screen," Leeds told the Times.
Crooks said she was upset that others had experienced the same alleged abuse she had, but found comfort in the fact that she wasn't alone.
"People should know this behavior is pervasive and it is real," she told the Times.
"These women talked about wanting to set the record straight," said Maatz. "That's what most survivors want: to be believed and to be heard."