Here are President Barack Obama's favorite sci-fi movies and TV shows of all time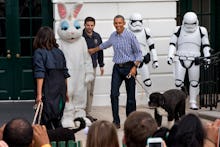 As if there was any doubt that President Barack Obama is the hippest POTUS in American history, he sat down with Wired for an interview in their November issue, which he also guest-edited. Obama talked about his affinity for sci-fi movies and television. 
For Obama, his favorite TV show growing up was Star Trek, which he credited to the series' rich humanity. 
"That is what I love most about America ... that spirit of, 'Oh, we can figure this out,'" Obama told Wired, in relation to Star Trek. "If we ever lose that spirit, then we're gonna lose what is essential about America and what I think is essential about being human." 
In separate piece, POTUS also listed his favorite sci-fi entities. Wired provided partial quotes of Obama explaining his rationale for each film or series on the list. Here's a summary of his favorites — and the quotes — per Wired: 
2001: A Space Odyssey (1968): It "captures the grandeur and scale of the unknown." 
Blade Runner (1982): "It asks what it means to be human." 
Close Encounters of the Third Kind (1977): "It is fundamentally optimistic." 
Star Wars: Episode IV — A New Hope (1977): "It was fun and revolutionized special effects." 
Star Trek, the original series (1966-1969): "Uses science fiction to promote a humanist ethnic." 
The Martian (2015): It "shows humans as problem solvers." 
The Matrix (1999): "It asks basic questions about our reality — and looks very cool." 
Cosmos: A Personal Voyage (1980): "It fed [my] lifelong fascination with space." 
Thanks, Obama!