Zero women won Nobel Prizes this year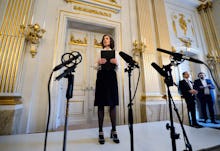 Thursday morning's announcement that singer-songwriter Bob Dylan won a Nobel Prize in literature means that all of the 2016 Nobel Prizes have been awarded. While the list of recipients represent a group of highly accomplished and talented people, there's something missing: um, women.
That's right: This year, the Nobel Prizes in physics, chemistry, physiology or medicine, literature, as well as the Peace Prize and the Memorial Prize in Economic Sciences, all went to men. There are officially zero women among this year's Nobel Prize winners — something that hasn't gone unnoticed by people on social media. 
While the lack of acknowledgement for women scholars, writers and scientists may seem shocking, it's actually not that surprising when it comes to the annual Nobel Prizes. The last year with zero women winners was just four years ago, in 2012. Since then, there's been just a small handful of women prize-winners, including scientist Youyou Tu, writer Svetlana Alexievich, activist Malala Yousafzai and author Alice Munro.  
In fact, in the more-than-a-hundred years of Nobel Prizes, only 48 women have won the prestigious awards — Marie Curie, twice — out of hundreds of total winners. In 2012, NPR reported that a partial explanation for the startling dearth of women among Nobel Prize winners is "that three of the prizes are for science, and the sciences have not always been friendly to women." 
In fact, in the U.S., anti-nepotism laws meant that women scientists were forbidden from working at the same universities as their husbands, which kept countless women scientists from working. 
As NPR reported, some got around this by working for free, including 1947 Nobel Prize co-winner Gerty Cori, who worked as an "unpaid lab assistant," and 1963 Nobel Prize co-winner Maria Goeppert Mayer, who was a "volunteer professor."
But the Nobel Prize committees have continued to overlook women scientists, despite plenty of options. And in the entire history of the awards, only one woman, Elinor Ostrom, has won for economics. So while this year's Nobel Prize announcements were likely thrilling for many — especially Dylan fans — the list of winners has left some women thinking, yet again, that there's always next year.