Colin Kaepernick: It's "disappointing" to hear Ruth Bader Ginsburg call my protest "dumb"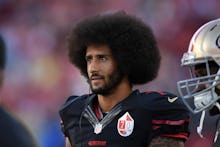 This justice has been served. 
San Francisco 49ers quarterback Colin Kaepernick responded to Supreme Court justice Ruth Bader Ginsburg's criticism of his decision to sit during the national anthem to protest police brutality and structural racism in the United States.
"It is disappointing to hear a Supreme Court justice call a protest against injustices and oppression 'stupid, dumb' in reference to players doing that," Kaepernick told reporters, according to the Toronto Star. 
"I was reading an article and it refers to white critique of black protests and how they try to delegitimize it by calling it 'idiotic, dumb, stupid,' things of that nature, so they can sidestep the real issue," Kaepernick continued. "As I was reading that I saw more and more truth how this has been approached by people in power and white people in power in particular."
Kaepernick, who is set to start in Sunday's game against the Buffalo Bills, also said that "people are getting too caught up in the flag." 
 "At the end of the day the flag is just a piece of cloth and I am not going to value a piece of cloth over people's lives."
He added,  "At the end of the day the flag is just a piece of cloth and I am not going to value a piece of cloth over people's lives. That's just not something I can do, it's not something I feel morally right doing and my character won't allow me to do that."
Ginsburg criticized Kaepernick while speaking to Katie Couric during a promotional interview for her new memoir, My Own Words. While Ginsburg is not the first person to criticize Kaepernick, she is one of the most high-profile voices from the left to take a dig at the footballer.
On Friday, Ginsburg released a statement via SCOTUS press office in which she walked back her comments, according to Buzzfeed's Chris Geidner.
"Some of you have inquired about a book interview in which I was asked how I felt about Colin Kaepernick and other NFL players who refused to stand for the national anthem," the statement said. "Barely aware of the incident or its purpose, my comments were inappropriately dismissive and harsh. I should have declined to respond."
Since her comments began circulating Monday, a few people have criticized Ginsburg as "less liberal." Her comments were a rare media misfire for Ginsburg, who's become something of an icon among young feminists. She's also invoked Martin Luther King Jr. and others while dissenting on major racial justice court cases, including the 2013 case that invalidated key parts of the Voting Rights Act. 
After intense criticism saying Kaepernick disrespected the flag and U.S. troops, military veterans spoke up in support of Kaepernick using the hashtag #VeteransForKaepernick.
Kaepernick's August protest has since sparked a wave of protests across the nation — soccer players like Megan Rapinoe and high schoolers alike have taken a knee to say that police brutality has no place in America. 
And there is nothing dumb about that. 
Oct. 14, 2016, 4:20 p.m.: This post has been updated.