'Black-ish' season 3, episode 4 recap: "Who's Afraid of the Big Black Man?"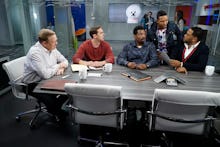 After last week's political episode, this week, Black-ish detours into social issues, specifically those that affect black men in America. Last season's phenomenal "Hope" specifically took on the epidemic of unarmed black shootings in the country, and proved to be the series' most subversive episode yet. It was funny, but also immensely weighty. 
Wednesday's "Who's Afraid of the Big Black Man?" does the best it can to avoid being too weighty, though there's certainly an underlying nature of the truth throughout the episode. The ultimate takeaway is this: three seasons in, Black-ish very much knows what it's doing and what it wants to be.
As small as it is, Rainbow's (Tracee Ellis Ross) plot this week in this episode is the perfect example of that confidence: her attempts to spend more time with the children is similar to past episodes, but it's also a plot that Black-ish does easily without running out of ideas to keep it funny. Little things, like the fact that Bow doesn't try to bribe the kids with non-existent cookies as usual — and then fails when going with the subpar Rice Krispies Treats — are nice touches. Plus, Ross always nails Bow's awkward attempts at being a cool mom, or in this case a "bomby" (a "bomb mommy").
So yes, Black-ish often repeats itself in terms of general concepts. That's not necessarily a bad thing though. "Who's Afraid Of The Big Black Man" is essentially an improved upon version of the first season episode "Martin Luther Skiing Day."
In "Martin Luther Skiing Day," Dre (Anthony Anderson) went "full Dre" in order to remind Junior (Marcus Scribner) that racism is still very much alive and that Martin Luther King didn't die for nothing. In "Who's Afraid of the Big Black Man," Dre again tries to prove that racism is still very much alive, and it's not just in his head. Because, let's face it, it's not only in his head. He just has the "misfortune" of living with his perfect family in the suburbs and not having to face the realities of racism regularly.
The cold open is an instant classic, as Dre speaks in voice-over about just how important and special America is for the very fact that "everyone does their part" — only for him to freeze at the sight of a toddler girl in the parking garage elevator. Dre backs away slowly once the elevator doors close her in. That leads to harsh judgment from the biggest creeps around, like Mr. Stevens (Peter Mackenzie) and Josh (Jeff Meacham). 
But as Charlie (Deon Cole) and Curtis (Allen Maldonado) confirm they did the same thing to avoid the "trap," it becomes apparent what the episode is really about. Dre, Charlie, and Curtis are aware of the type of community they're in when it comes to these types of situations.
Naturally, Dre is perceived as seeing things that aren't there, even though he's technically right throughout in this episode. The episode goes to extremes to give Dre doubt about his belief in the myth of the scary "big black man." The Dre/Johan/Junior elevator scene with the woman who gives out all of her personal information over the phone while Dre watches, stunned, is hilariously over-the-top and works even better because of how smugly straight Scribner and Daveed Diggs play it.
As cartoonishly fun and chaotic as the Stevens & Lido scenes are, a return to the Johnson family's relations with their neighborhood is a satisfying and refreshing detour from Dre's work life. Plus, nuisance neighbor Janine (Nicole Sullivan) is always a welcome addition to any episode of Black-ish.
It's a nice touch that Dre letting his guard down doesn't just lead to the good things that being a more open person lead to. It also leads to people feeling way too comfortable being casually racist around him, and that's what happens here where Janine goes on about the "too Persian" renovations from the neighborhood's Persian family during the Homeowners Association meeting. It's not something the episode dwells on or turns into Very Special Episode fodder, but it is something that's apparent to Dre.
If anything, the episode feels a bit rushed in how it reaches the (understandably obvious) conclusion to the plot: Dre is actually right, despite all of the ways he is doubted and doubts himself. The fact that, when cops show up, an innocent Dre runs and leaves his also-innocent son, also-innocent brother-in-law,and a drunk-and-unconscious Janine behind is the type of selfish Dre thing that's funny at knee-jerk response but almost doesn't work in the long run — until Junior does the same thing. So does Johan, though he Johans it up and gets a little roughed up by a cop.
This is the best Uncle Johan episode of the season so far, as the character's pretensions are depicted with the right amount of dopey obliviousness (and not as much superiority) this week. Johan just showed up and then hung around in the past couple of episodes, and while he seemingly appears out of nowhere again this week, he more than holds his own in each scene. Look no further than everything that has to do with his spoken word poetry persona, "They Call Him Johan." There may never be anything more adorable than Daveed Diggs dabbing to Third Eye Blind's "Semi-Charmed Life." Never.
The moral of the episode seems to be that it's good until it's not. Even the two characters with their heads up in the clouds, Junior and Johan, get that. The episode's ending isn't happy, but "Who's Afraid Of The Big Black Man?" never actually plays these beats for the drama like "Hope" did. Instead, it's almost a dark (family) comedy about how 2016 isn't actually a "post-racial utopia." All things considered, it's really fun to watch.
"Who's Afraid Of The Big Black Man?" really goes the extra mile for its big jokes and sight gags, and its remake of a race-bent The Honeymooners with Dre and Bow is an early highlight of the episode in that regard. It's a few-seconds-long gag, but it certainly offers up more laughs and awareness than the 2005 remake of the Honeymooners was.
"Who's Afraid Of The Big Black Man" honestly has a lot to pack in one little episode, and generally it hits the greatest hits of such a topic. So if you take just one thing from this episode though, let it be this line from Dre: "Things are just as racist now as they were the first time they canceled Arsenio. The second time was his fault."