Boko Haram released 21 of the kidnapped Chibok schoolgirls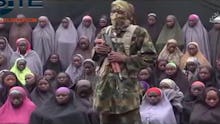 On Thursday morning, Nigerian government officials announced that Boko Haram had released 21 of the missing Chibok schoolgirls who were kidnapped in 2014.
The handover was performed as part of a deal struck between the African terrorist cell and the Red Cross and the Swiss government, a government source told CNN. No Boko Haram prisoners were released in exchange for the girls.
On April 14, 2014, 276 schoolgirls at the Government Girls Secondary School in Chibok, Nigeria, were stolen from their beds in the night by Boko Haram militants. The kidnapping immediately spurred international outrage, with first lady Michelle Obama leading the charge with a hashtag initiative, #BringBackOurGirls, designed to bring increased attention to the ordeal.
Although little has been heard from the girls since they were taken captive, reports have indicated that some of the female prisoners have been forced into marriages with Boko Haram militants, and others have been forced to become sex slaves.
But their ordeal is far from over. Even after their safe release, the Chibok girls face an overwhelming set of obstacles in order to return to any type of normalcy.
According to an April report by the Washington Post, Nigerians harbor intense skepticism toward the released prisoners, who are still largely referred to as "Boko Haram wives." 
Their fear, according to the Post, is valid: Last year, 39 out of 89 Boko Haram suicide bombings were executed by women, some under the age of 18.
The escaped Boko Haram wives, many of who have had children with the militants and still profess love for their husbands, are seen as a group particularly likely to have been indoctrinated.
What's more is that even if the women pose no threat, many have no real homes to return to once they've been released. Boko Haram has conducted a campaign of terror in Nigeria, razing many of the villages that the women once called home.
For now, however, the 21 released women are "very tired," according to Mallam Garba Shehu — a spokesman for Nigerian President Muhammadu Buhari who confirmed the girls' release — and are in the process of getting some much-needed rest.