A pint-sized pup keeps Hillary Clinton's campaign staff going in a hectic campaign season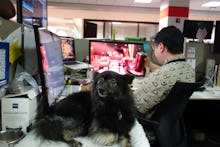 BROOKLYN — Life on a presidential campaign is rough.
For months, the hundreds of staffers working to help elect Hillary Clinton have spent seven days a week holed up in the campaign's hectic Brooklyn headquarters, working long hours to crunch data, build an organizational infrastructure and push a message that will help their candidate win the White House come November.
And when that stress gets to be too much, staffers often turn to Winnie, a teeny and docile Pomeranian and Schipperke mix who has become a calming presence in an otherwise stressful environment.
On a warm October morning, Winnie had just returned to HQ from a week-long campaign trip with her owner, Clinton tech team member Timothy Lu Hu Ball, known around the office simply as Timball.
Winnie was greeted like a celebrity, with staffers rushing over to scoop her up and hold her like a baby, feeding her cheese balls and lamenting her absence from the office for the past week.
"Various people will just walk up to Winnie and scoop her up and walk away," said Timball, who each day sneaks Winnie into headquarters, where four-legged friends are technically not allowed.
Timball never planned on bringing Winnie into the office when he accepted the job as a tech developer for Clinton's campaign. But when leaving Winnie home during the day with his roommate's dog didn't work out, he snuck her into his office and kept her by his desk.
Timball thought Winnie would be kicked out after she escaped the confines of his cubicle, exposing the fact that he'd been harboring a pet.
But she had already became such a calming presence to those around her that senior staff allowed her to stay.
Since Winnie received permission to spend her days at HQ, she's become a celebrity of sorts in the office.
She has her own social media presence on Facebook and Instagram run by Rachel Cantor, a software engineer for the campaign.
She's met the entire Clinton family, including Hillary Clinton, former President Bill Clinton and Chelsea Clinton — who loved Winnie so much she scooped her up and walked off with her during one visit to campaign HQ.
Staffers say she was unfazed by the famous faces she's met, including Grammy Award-winning singer Carole King and Orange is the New Black actresses Yael Stone and Lea DeLaria.
"Whether it's just another person or former President Bill Clinton, she behaves the same around them," Cantor said. "Unless they have chicken or pizza they're willing to share."
Winnie even has her own IMDb page, created after her appearance in an episode of Showtime's The Circus — a docu-series about the 2016 campaign.
Now, Winnie serves a bigger purpose — drawing supporters and volunteers to the campaign app her owner helped design.
When building the app — which allows users to complete organizing tasks in their own "virtual campaign office" — designers were looking for a way to incentivize users to come back day after day.
They decided to add in Winnie, who like any dog needs to be fed or pet or she'll run away.
The app's designers say it's working.
More than 140,000 people have downloaded the app, with users interacting with Winnie more than 350,000 times since the app launched at the end of July, according to a Clinton campaign aide.
"She really makes people want to open the app," said Cantor.