Hurricane Nicole latest updates: Where is the storm now?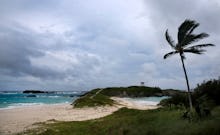 As of 11 a.m. local time Thursday, Hurricane Nicole — a Category 3 hurricane arriving on the coattails of the deadly Hurricane Matthew — was passing over the small British island territory of Bermuda, according to a bulletin from the National Hurricane Center.
Where is the storm now, and where is it headed?
As of 11 a.m. local time Thursday, Nicole was 10 miles east of Bermuda, according to the National Hurricane Center. The storm is traveling northeast at a rate of 16 mph away from Bermuda, carrying with it 120 mph winds.
What can Bermuda expect?
Hurricane Nicole struck Bermuda with Category 3 hurricane strength, according to the Weather Channel, as its eye passed over the island. The storm reached Category 4 status on Wednesday with winds up to 130 mph, but weakened overnight. 
Nicole should still be considered extremely dangerous, since it's the strongest storm of its type since Hurricane Fabian in 2003, the Weather Channel reports. There have only been 12 Category 3 hurricanes since 1899, according to the same report.
How does Hurricane Nicole compare to Hurricane Matthew?
While the aftermath of Hurricane Nicole could be severe in Bermuda, a nation of roughly 65,000 people, it likely won't compare to the haymakers Hurricane Matthew threw at the Caribbean and the eastern coast of the U.S.
In terms of the size of the population affected by the storm, Nicole should only affect Bermuda before making its way out to sea by Friday. Matthew, on the other hand, hit a number of Caribbean islands before making its way up the U.S. east coast. It caused millions of people to be evacuated from their homes, millions more to be left without power and led to more than 1,000 deaths in Haiti alone.
But while the brunt of Nicole's force will be out in deeper waters by the weekend, officials in Bermuda are still telling residents to prepare for the worst.
"Nicole is a serious threat to Bermuda, and we cannot afford to have complacency with this storm," Senator Jeff Baron, Minister of National Security, told the Royal Gazette. "I cannot emphasize enough the critical importance of residents securing their homes and completing their preparations well in advance of this storm."