Criminal complaint against Chris Christie proceeds, creates more turmoil for Trump team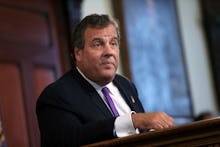 A New Jersey judge has given the green light for a criminal complaint against Republican Gov. Chris Christie to move forward, issuing a criminal summons after finding probable cause exists that the governor engaged in "official misconduct" in his handling of the 2013 closure of lanes on the George Washington Bridge.
The complaint was filed in September by Bill Brennan, an activist in Bergen County. NBC New York reported that Brennan filed the complaint after former Port Authority official David Wildstein testified that Christie knew about the lane closures at the time, which the governor has repeatedly denied.
Prosecutors in the ongoing trial of former Christie aide Bridget Kelly also claim Christie knew of the closures earlier than he has admitted. They say that the closures were a politically motivated revenge tactic against a local mayor who had refused to endorse Christie's reelection bid.
The finding of probable cause for Brennan's complaint sets in motion a process that could lead to Christie's indictment. The complaint will now be referred to the Bergen County prosecutor's office, which will decide whether to refer the matter to a grand jury for indictment. 
This is a dishonorable complaint filed by a known serial complainant and political activist with a history of abusing the judicial system.The simple fact is the governor had no knowledge of the lane realignments either before they happened or while they were happening," Christie spokesman Brian Murray told Mic.  "This matter has already been thoroughly investigated by three separate independent investigations. The ruling is being appealed immediately."
A call to the Bergen County prosecutor was not returned Wednesday morning. 
The ongoing legal issues regarding Christie's involvement in the Bridgegate scandal is yet another headache for Donald Trump's campaign. The Republican presidential nominee counts Christie as a close adviser. Christie was one of the first prominent Republicans to endorse Trump during the primaries, following his own failed run for the nomination.
Christie is part of Trump's inner circle, advising him on political strategy, helping Trump prepare for his debates against Hillary Clinton and serving as chair of Trump's transition team. It's a stark reversal of fortune for Christie, who was once seen as a rising star in the Republican Party and a leading contender for the nomination.
The scandal surrounding the lane closures doomed those prospects, and Christie dropped out of the 2016 race soon after the New Hampshire primary.
Christie's relationship with Trump has been strained by the revelation of Trump's 2005 comments about how he treats women. Christie told a New Jersey radio station on Tuesday that "anybody who hears that video was disturbed by it and offended by it and as well they should be," but still supports Trump.
"I made that very clear to Donald on Friday when this first came out and you know urged him to be contrite and apologetic because that's what he needs to be," Christie said.