Delta flight attendant refused to believe black woman was a doctor during an emergency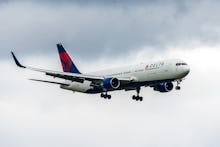 This flight attendant may have been more willing to let a sick passenger suffer than she was to believe a black woman was actually a doctor. Tamika Cross, a Houston OB/GYN, was on a Delta flight earlier this week when, as she explained in a Facebook post on Sunday, she realized a passenger in front of her was clearly in distress. 
"Was on Delta flight DL945 and someone two rows in front of me was screaming for help," Cross wrote. "Her husband was unresponsive. I naturally jumped into doctor mode as no one else was getting up." 
Cross sat back down when a flight attendant said it was "just a night terror," but a couple of minutes later, Cross wrote, the passenger was unresponsive again. This time, she heard the flight attendant asking for a physician onboard the plane.
"I raised my hand to grab her attention," Cross wrote. "She said to me, 'Oh no sweetie put your hand down, we are looking for actual physicians or nurses or some type of medical personnel, we don't have time to talk to you.' I tried to inform her that I was a physician but I was continually cut off by condescending remarks."
Cross had to explain again that she was a physician — and even then, she said, the flight attendant asked "to see her credentials" — all while the sick passenger was still in need of help.
Meanwhile, Cross said in her post, a white man stood up and said he was a doctor, too. "[The flight attendant] says to me, 'Thanks for your help but he can help us, and he has his credentials,'" Cross wrote. The man hadn't shown anything to the flight attendant, she said — he just "fit the 'description of a doctor.'" 
"I stay seated," she wrote. "Mind blown. Blood boiling."
Despite being angry, Cross said she still offered her advice when the flight attendant came up to her 10 minutes later to ask her questions about how to help the sick passenger. She also said the flight attendant apologized multiple times and made a conciliatory offer of Skymiles, which she refused. 
"This is going higher than her," Cross wrote on Facebook. "I don't want Skymiles in exchange for blatant discrimination."
Cross's Facebook post has been shared more than 20,000 times, and thousands of commenters have weighed in to criticized the unnamed flight attendant for "ignorance," "prejudice" and "blatant discrimination."
In an emailed statement, Delta spokeswoman Catherine Sirna said "Discrimination of any kind is never acceptable. We've been in contact with Dr. Cross and one of our senior leaders is reaching out to assure her that we're completing a full investigation." Sirna confirmed to Mic that the flight attendant involved in the incident is still employed by the airline.
Oct. 13, 2016, 7:50 p.m. Eastern: This story has been updated.