Big Pizza is taking over, but here's a way to help the little guys get a piece of the pie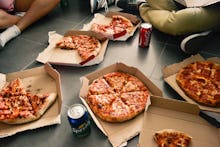 A whopping $26 billion of the $40 billion American pizza industry is owned by local pizzerias. But more than 90% of online orders for pizza go to Big Pizza. (You know, nationwide chains like Domino's and Sbarro.) 
Big, cheesy guns like Pizza Hut and Papa John's have swiftly adapted to Americans' preference for online ordering, but it's taken longer for smaller scale business to get on board. 
Enter Slice, a company dedicated to connecting delivery customers to independently owned pizza shops instead of nationwide chains. The company's free iOS app launched Thursday across the country. 
How is this any different from delivery platforms like Seamless or GrubHub? Well, for starters, many local pizza shops aren't on these platforms. Local pizzerias are "really lagging behind on tech, and ultimately that's what's hurting their businesses," Ilir Sela, creator of Slice, said in an interview. "All we're trying to do is level the playing field."
Many of these small-scale pizzerias are "unsophisticated;" they're small, family-owned and "they have a lot of pride in their craft," Sela said. Some businesses are so old school, Slice sends their orders over fax. Fax! 
"People order Dominos because they're in their car and they want to place an order while stopping at a red light," Sela said. He's right — convenience often trumps quality when it comes to delivery. As a report in Pizza Magazine stated, "if your customers can't place orders online, you're falling behind." 
For mom and pop pizza shop owners, Slice is much more affordable than other online delivery services. Joining a service like Seamless is a big financial commitment for a small business. "A lot of people don't understand that pizzeria's profit margins are about 30%," Sela said. Seamless may help business but a shop's bottom line might be worse off, he noted.
"We're basically helping local pizzerias by empowering them with technology." - Ilir Sela, founder of Slice
Seamless and Grubhub take an average cut of 13.5% from a delivery order, Quartz reported. In contrast, Slice charges the restaurant a flat fee of less than $2.00 per delivery — no matter the order size. Plus, Slice provides 24/7 customer service to its merchants; the company sets up each pizzeria's profile, inputs its menu items and even does the marketing for each shop. "It's hand-holding their way into technology," Sela said. "We're basically helping local pizzerias by empowering them with technology."
So what's Sela's beef with Big Pizza here? His whole business plan comes from a pretty sweet place. After immigrating from Albania and growing up on Staten Island, 36-year-old Sela spent the brunt of his childhood hanging in family-run pizzerias, working in the shops after school and delivering pies to dinner-ready families across his neighborhood. 
Sela watched as Domino's and other chains set up shop in areas that where independently owned shops used to flourish, and he knew he wanted to help local pizza shops take back a piece of the business pie. Makes you crave something cheesy, no?