'Overwatch' Halloween Terror Patch Update: How to download the new 1.10 patch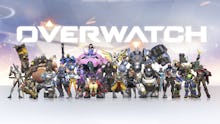 A new Halloween-themed Overwatch patch is available for download on PlayStation 4, Xbox One and PC. Update 1.10 went live on Tuesday and can be queued on the PlayStation Network, Xbox Live or Battle.net for PC gamers.  
In addition to the seasonal Halloween "event," the new Overwatch patch includes general gameplay updates such as new leaderboards, two additional aiming modes, a static camera in spectator mode and the ability to rejoin matches if you're disconnected. 
The exciting news, of course, is the limited-time Halloween bonuses now available. From the Overwatch blog:
The fright for the future has begun, heroes, and for the next three weeks, we're celebrating the spookiest time of the year in true Overwatch fashion—with a brand new seasonal event! Explore the haunted streets of Hollywood, expand your collection of themed holiday items, and relive a chilling tale in our first-ever PvE brawl: Junkenstein's Revenge!
Once updated, Overwatch loot boxes will take the form of glowing jack-o'-lanterns filled with a variety of "cosmetic treats" including profile icons, sprays, victory poses, emotes, highlight intros, skins and more. 
Additionally, the co-op brawl — Junkenstein's Revenge — allows players to "team up with three other players and face off against a host of eerie enemies, including Dr. Junkenstein himself, Junkenstein's Monster, the Reaper, a mysterious witch and host of shambling zomnics." 
Should be a fun update. Still no Sombra, though.