Hurricane Nicole Florida 2016: What to expect from Atlantic storm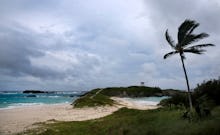 As of 2 p.m. local time on Thursday, Hurricane Nicole was on its way out to sea, 90 miles northeast of Bermuda and blowing northeast at a rate of 18 miles per hour, according to a bulletin from the National Hurricane Center.
Bermuda caught the brunt of Nicole's force, with heavy winds and rains pummeling the small British island territory Thursday morning. For the coastal United States, that mostly just means some rough surf.
"Hurricane Nicole is not having a direct influence on the weather in Florida," Dennis Feltgen of the National Hurricane Center said in a phone interview Thursday. "The hurricane is now northeast of Bermuda and moving away from the island. Swells associated with Nicole will spread northward along the United States' east coast from the Carolinas northward through the next few days."
In South Florida, those swells could mean submerged docks, flooding and seawall spillover, according to the Miami Herald, ushering in the annual "king tides," or tides that can rise a foot taller than normal. Authorities have advised residents to avoid low-lying areas that can flood easily.
"Water in the streets also picks up pollutants from the surrounding environment," Chief Resiliency Officer Susanne Torriente said, according to NBC. "Avoid coming into contact with flood water, and ensure children do not play in or near this water."
As of the NHC's 2 p.m. bulletin, the only hurricane warnings were still for Bermuda. There are currently no major storm warnings for Florida, and no tropical cyclone advisories for at least the next five days, according to the NHC.