The person who likely cares least about Bob Dylan's Nobel Prize win is Bob Dylan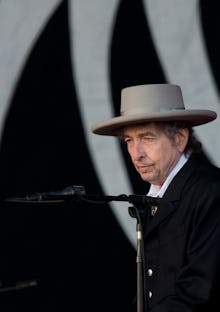 Few living artists have been as deeply mythologized as Bob Dylan — and few artists seemed to have despised it more. 
Critics and authors have pinned him with nearly every grandiose title in the book, seemingly trying to match his fascinating folk poetry: "prophet," "mystic," "the 20th century's Shakespeare." But as much as our country tried to yoke him with the mantle of "spokesman" or the "voice of a generation," Dylan always seemed to find away to slip out of it. 
"You feel like an imposter when someone thinks you're something and you're not," Dylan once told Ed Bradley in a 2004 60 Minutes interview, decrying labels like "prophet" and "voice of a generation." "You're just not that person everybody thinks you are, though they call you that all the time. 'You're the prophet. You're the savior.' I never wanted to be a prophet or savior. Elvis maybe — I could easily see myself becoming him. But prophet? No."
It doesn't appear Dylan has ever said anything about becoming a Nobel laureate, which he officially became Thursday, earning the prize in literature against some extremely stiff odds. He has yet to respond to requests for comment, but he became the first musician to ever receive the honor, adding even more fuel to arguments for his music being one more chamber in the heart of American music and poetry. It's one more accolade Dylan never asked for, and one he would likely credit to something far larger than himself.
As soon as Dylan mastered a style, he switched lanes. After authoring some of the most immortal and future-facing protest anthems, in the midst of the '60s civil rights movement and anti-war unrest, he decided he was done with politics.
"There's no black and white, left and right to me anymore, there's only up and down and down is very close to the ground," he told a meeting of the Emergency Civil Liberties Committee while accepting its Tom Paine award in 1963. "I'm trying to go up without thinking of anything trivial such as politics."
Many saw it as a betrayal. The man who wrote "Blowin' in the Wind" — a key piece of soundtrack of voter registration drives in the South and the song Peter, Paul and Mary chose to sing on the steps of the Lincoln Memorial hours before Martin Luther King told the world, "I have a dream..." — was abandoning the movement. It was akin to one of the leading voices of the social movements of today deciding to say "All lives matter." 
It was what he had to do to continue to feel artistically empowered, despite how it could have damned his legacy. He felt it necessary he be a human first, as he wrote in an open letter, originally printed in Broadside, that seemed in part an acknowledgement to those many of those he'd crossed.
Away away be gone all you demons
Though it's possible this self-reliant divisiveness helped fuel his notoriety and celebrity, it's hardly a fair way to characterize all that Dylan has meant to poetry. It's not something he was ever consciously trying to do, as Dylan said at a MusiCares event in February 2015 when accepting its person of the year award. He explained he never saw his music as doing anything significantly different or unique from America's already-established folk tradition.
"I just opened up a different door in a different kind of way," Dylan described it, looking back over his career. "It's just different, saying the same thing. I didn't think it was anything out of the ordinary. Well you know, I just thought I was doing something natural, but right from the start, my songs were divisive for some reason."
He credited the standards; the history; people like Robert Johnson, Big Bill Broonzy; "come all you" songs; labor ballads, like "John Henry." These are the songs that gave Dylan his poetic chops. He merely translated those songs for the world, he said in that speech. The Nobel is as much a reward for this tradition as it is for Robert Allen Zimmerman, the name on Bob Dylan's birth certificate, and may very well be what he credits again come the ceremony Dec. 10.