Donald Trump tries to destroy the women accusing him of sexual assault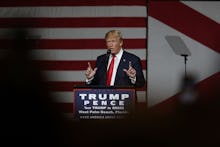 Donald Trump lashed out against the women who have come forward to accuse him of sexual assault, calling them "horrible people" and "horrible, horrible liars" who are part of a conspiracy to undermine his candidacy.
Referring to a former writer for People who wrote on Wednesday about a traumatizing experience with Trump, the Republican nominee urged a crowd in Florida to "look at her. Look at her words. You tell me. I don't think so," seeming to suggest her account is not believable because of her looks.
Trump spoke Thursday afternoon in West Palm Beach, Florida, just hours after at least four women accused him of sexual misconduct in reports published Wednesday.
He flatly denied the claims made by women in the New York Times, People, and the Palm Beach Post, casting the accusations as part of a massive conspiracy between the "political establishment," the Clintons and the "corrupt corporate media."
"This is a conspiracy against you, the American people, and we cannot let this happen," Trump said. "The claims are preposterous, ludicrous, and defy truth, common sense, and logic."
Jessica Leeds and Rachel Crooks told the New York Times that Trump had forced himself on them on two separate occasions in the 1970s and 2005. Former People reporter Natasha Stoynoff wrote that Trump forcibly kissed her in the course of reporting a magazine profile in 2005. The Palm Beach Post reported that yet another woman, Mindy McGillivray, said Trump grabbed her inappropriately at an event at Mar-a-Lago in 2003.
In Florida on Thursday, Trump took direct aim at the women who have come forward, attacking their credibility in an effort to discredit their accounts.
Responding to the New York Times story, Trump reiterated that he was "preparing a lawsuit" against the newspaper over the accusations. He called the most recent story "totally fabricated and false."
"[The incident] supposedly took place on an airplane more than 30 years ago," he said. "Another ridiculous tale. No witnesses. No nothing."
"It's gotten more and more vicious. more and more vile," Trump said of the Times. "Even the other mainstream media is talking about the single greatest pile-on in history."
Directing his ire at Stoynoff, Trump said the fact that the incident wasn't included in the People profile is evidence that it didn't happen.
"Who would have done that? If you're doing this and you're one of the top shows on television?" he said. "These people are horrible people. They're horrible, horrible liars. And interestingly, it happens to appear 26 days before our very important election."
The contrast between Trump's remarks and Michelle Obama's speech earlier Thursday was striking. Just minutes before Trump took the stage, the first lady delivered a powerful address in which she called Trump's remarks in a 2005 recording "intolerable."
"Let's be clear, this is not normal," Obama said. "This is not politics as usual. This is disgraceful. It is intolerable — it doesn't matter what party you belong to, no woman deserves to be treated this way."
Mic has ongoing presidential coverage. Please follow our main election hub as well as coverage of Donald Trump and Hillary Clinton.