Spring 2017 fashion weeks were the most inclusive on record — but it's not all good news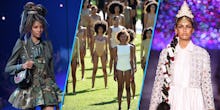 The dreadlock wigs from the Marc Jacobs show at New York Fashion Week have now been put away (and hopefully burned). The bejeweled crocs seen at London Fashion Week are tucked back deep into a closet. And Jeremy Scott's pill purses from Milan Fashion Week that could be glamorizing drug use are now up for sale. 
Fashion month is officially over, and now it's time to see if the industry finally took diversity seriously this year in fashion weeks around the world. 
The answer: kinda, sorta. 
According to the Fashion Spot's latest report, which tallied the month's 299 shows and 8,832 model appearances in New York, London, Milan and Paris, the Spring 2017 runways were the most inclusive to date, with 25.35% of models cast being people of color. 
So far, that's the highest percentage to date. Last season (Fall 2016), it was 24.75%, and the season before that (Spring 2016) it was 22.4%. 
Of the shows that were the most diverse were Kanye West's Yeezy Season 4 at NYFW, which had a cast comprised of 97% models of color; Kimora Lee Simmons's show at NYFW, which had 82% models of color and the Ashish show at London Fashion Week, which had 75% models of color. It should be noted that all of these designers making a concerted effort are also people of color.
As with seasons previous, NYFW was more racially diverse than any of the international shows, though its percentage of non-white models did take a slight dip this season, from 31.9% of models cast being models of color in February to just 30.3% in September. 
But while racial diversity was up around the globe, plus-size and transgender models continued to make up a tiny percentage of castings. Though, according to the report, more transgender models appeared than ever before, with 10 transgender model appearances this season, compared to February's eight. Of those 10, eight were at NYFW shows. 
In terms of where the plus-size models were at, all of them appeared at NYFW. That means that no plus-size models appeared on the runways in Europe. In total, there were 16 plus-size model appearances, which is up from February's 6 appearances. According to the Fashion Spot's report, only 0.18% of all castings during fashion month were plus-size models. 
But among the most size-inclusive shows this season were Christian Siriano, who cast five plus-size models, as well as Chromat, who cast five as well.
That being said, the notable outcome here is that diversity is getting far more attention around the world than ever before, and according to the Fashion Spot's managing editor, that could be because of all the extra attention that's on fashion shows right now. 
"Runways are more visible than ever before. Shows are livestreamed, live-blogged on Instagram, and now many designers are moving toward a see-now-buy-now formula," the Fashion Spot's managing editor, Jennifer Davidson, said in an interview. "With increased visibility comes increased responsibility. The call for inclusivity is louder than ever from social media, consumers, the [Council of Fashion Designers of America], Diversity Coalition and more." 
Davidson also credits the many different efforts from fashion insiders and models to boost diversity across the board, from racial diversity to body diversity to trans inclusion. 
"This year, there was a multitude of grass-roots efforts calling for diversity, like the All Woman Project, #BlackModelsMatter, #RunwayForAll," Davidson continued. "Several designers received positive attention for their inclusive runways and ad campaigns, which proves that people care very much about seeing fair representation." 
So, what does this all mean? While racial diversity is getting a notable boost after years of lagging, plus-size models and transgender models continue to take up just a tiny percentage of castings. 
The real takeaway here: We still have a lot to work to do.