The 'New York Times' had the ultimate response to Donald Trump's lawyers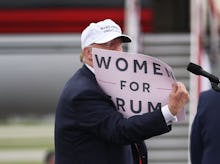 On Wednesday, the New York Times published interviews with two women, Jessica Leeds and Rachel Crooks, in which each accused Republican presidential nominee Donald Trump of sexual assault.
Hours later, the Trump campaign threatened the publication with a lawsuit, with one unnamed campaign staffer saying, "NYT editors, reporters, politically motivated accusers better lawyer up," according to CNN. Early Thursday morning, Trump's lawyer Marc E. Kasowitz sent a letter to Times Executive Editor Dean Baquet demanding he pull the piece.
"We hereby demand that you immediately cease any further publication of this article, remove it from your website and issue a full and immediate retraction and apology," Kasowitz wrote in a statement, CNN reported. "Failure to do so will leave my client with no option but to pursue all available actions and remedies."
Thursday afternoon, the Times issued a statement in response to Kasowitz's demand for a retraction, rejecting the request, particularly on the grounds of "libel" mentioned in Kasowitz's letter to Baquet.
"The essence of a libel claim, of course, is the protection of one's reputation," wrote New York Times Company Vice President and Assistant General Counsel David E. McCraw. 
McCraw then offered a comprehensive list of the candidate's predatory comments and behaviors which have recently come to light.
"Nothing in our article has had the slightest effect on the reputation that Mr. Trump, through his own words and actions, has already created for himself," McCraw continued.
McCraw emphasized that the Times reporters who worked on the story ensured to confirm Leeds' and Crooks' stories, and that they were well within their rights to print them.
"If he believes that American citizens had no right to hear what these women had to say and that the law of this country forces us and those who would dare to criticize him to stand silent or be punished, we welcome the opportunity to have a court set him straight."
"We did what the law allows: We published newsworthy information about a subject of deep public concern," wrote McCraw. If Trump doesn't like it, said McCraw, the Times would be happy to move forward with a legal case.