'Pokémon Go' update: Catch bonus, gym training and more features improved for iOS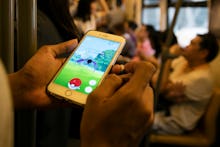 Over the past week, Pokémon Go has been updated not once, but twice in an effort to lure players back to the game. The app has been steadily losing users since its record-breaking debut in July. To counter, Niantic has added a catch bonus incentive for the previously useless medals trainers received for capturing multiple Pokémon of a related-type. The developer didn't stop there, additionally implementing a restructured gym system that allows players to carry six Pokémon into a friendly gym, as opposed to just one.
Player reaction has been mostly positive so far. "Gyms are SO much more pleasant to tap on now!" one Reddit user wrote in the Pokémon Go subreddit. "No more uncontrollable lag!" 
"Beyond that, I love that we can finally get XP for training at our own gyms - win OR lose," another Redditer said. "So much more incentive to train and raise the gym level!"
"I've been having major luck with the new medal system," another Reddit user wrote, before explaining: "I have gold in Normal, Bird Keeper, Punk Girl, Bug Catcher, Swimmer and Gardener and today at lunch, I went to this spot I usually will visit during lunch. There is a gym and 2 pokestops. Typically there will be Rattatas, Pidgeys, and Spearows. But TODAY, there was a Squirtle, Diglett and Cubone! Those are all fairly rare for me, so I was excited! No incense or lure modules were active."
Response on Twitter has been relatively warm as well, though one user did lament some loading problems upon updating.
The new Pokémon Go update is now available on iOS and Android. Below is a complete list of patch notes:
• Catch Bonus: Trainers can earn a catch bonus for a Pokémon type as they catch more of a specific type.
The update seems to have appeased fans for now. Maybe it can hold them over until the long-rumored Generation 2 patch arrives sometime in 2017.