Here's how Ken Bone is cashing in on his viral moment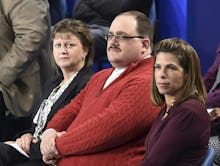 Internet sensation and seeming beacon of sincerity in this ugly election Kenneth Bone picked up his first corporate endorsement on Thursday — courtesy of ride-sharing company Uber.
Bone — of Shiloh, Illinois — made the endorsement known via his now-monumentally influential Twitter account, which has swelled to 223,000 followers since he asked a question during Sunday's presidential debate. 
An Uber spokeswoman confirmed the partnership in an email to Mic, noting Bone will receive Uber credits in exchange for helping to launch a new high-end version of the ride service in St. Louis, dubbed UberSelect. 
Bone tweeted about the UberSelect launch, and was also its first customer in St. Louis, taking a brief spin before taking questions from reporters, according to the St. Louis Post-Dispatch. 
The deal with Uber is not the only way Bone has been able to cash in on his internet fame.
In one of his first social media posts after appearing at the debate, the coal plant operator announced he was selling a limited-edition line of official Ken Bone swag via Represent.com, a service that lets sellers "create and sell custom branded merchandise with no up-front costs or risk."
The "official" shirt costs $19.99 — and he's offering a Gildan pullover sweatshirt for $34.99. 
Bone has also proved more than adept in parlaying his single debate question into a succession of media appearances. 
After appearances on Comedy Central's @Midnight and on Jimmy Kimmel Live!, Bone isn't slowing down: He has a Reddit AMA lined up for Thursday night.
He has also reportedly been offered $100,000 by an adult site called CamSoda to participate in a "live show," although there's no evidence he has taken the company up on its proposition. 
While Bone plans to auction off his famous red sweater, he told the Belleville News-Democrat, a local Illinois newspaper, he will donate the sum toward helping with voter registration efforts and to fight homelessness.
"I'm not going to be the internet guy who overstays his welcome," Bone told the paper. "I'm sure this will be over in a couple of days."
Never change, Ken Bone, never change.