Donald Trump news: Here's the latest from the Trump campaign trail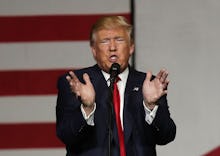 After declaring he won the second presidential debate, Trump has come out swinging against growing accusations of sexual assault and lewd behavior toward women.
It hasn't been easy for the Trump campaign this week. He's also had to face new national polls that show Hillary Clinton pushing ahead. But he's nowhere near giving up.
Here's how Trump is fighting to stay in the game as the historical Nov. 8 election looms.
Trump goes on the offensive over sexual assault claims
After a 2005 videotape leaked of Trump making inappropriate comments about women, more allegations began to surface. On Wednesday night, CBS News published a clip from a 1992 Entertainment Tonight video showing Trump, then 46 years old, commenting on an underage girl.
"I am going to be dating her in 10 years. Can you believe it?" he says.
A former People magazine writer published a story on Wednesday detailing her allegations of sexual assault by Trump at his Mar-a-Lago estate in the early 2000s, while his wife Melania was pregnant.  
Trump lashed out at the writer during a rally in Florida on Thursday. "Look at her. Look at her words. You tell me. I don't think so," he said, according to a transcript.
His campaign issued a statement saying the incident "never happened."
"There is no merit or veracity to this fictional story. Why wasn't this reported at the time? Mr. Trump was the biggest star on television and surely this would have been a far bigger scoop for People magazine. This is nothing but a politically motivated fictional pile-on," said Hope Hicks, Trump's national press secretary.
Trump also attacked the New York Times for a piece they recently published about another allegation of sexual abuse, which he called "slander and libel" and threatened to sue the newspaper during Thursday's rally in Florida.
Trump continues to hammer Clinton on emails and corruption
During the second presidential debate Sunday night, Trump went after Clinton on her email scandal again, saying if elected he would put her in jail.
He hasn't let up since then.
"Never in history have we seen such a cover-up as this, one that includes the destruction of 33,000 emails, 13 phones, laptops, missing boxes of evidence, and on and on," Trump said at a rally in Florida on Thursday. "People who are capable of such crimes against our nation are capable of anything."
A new focus on key battleground states
Trump no longer has the broad support of his own party and this week he unraveled on his colleagues in the Republican Party.
It appears that the Trump campaign is going to focus on several key battleground states as we head to the finish line.
Trump has had three appearances in Florida this week alone. And if recent polls are any indication, he's got an uphill climb in just about every major battleground state.
NBC News reported on Thursday that the campaign has given up on Virginia, where Clinton is steadily leading in the polls.
Mic has ongoing presidential coverage. Please follow our main election hub as well as coverage of Donald Trump and Hillary Clinton.
.