An Old Dominion University student said campus police prevented her from getting rape kit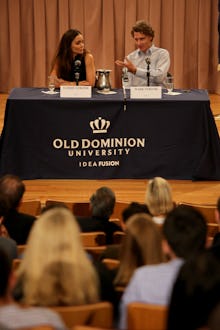 A student at Old Dominion University filed a complaint to federal education officials claiming campus police prevented her from taking a forensic medical exam after reporting she had been raped, the Associated Press reported.
The student said campus officials interrogated her for 8 hours in October 2014 after reporting her rape and failed to inform her right to seek a protective order against her perpetrator. 
According to the complaint obtained by AP, the unidentified woman told campus police she was raped in her dorm room and scheduled an appointment to take a rape kit at a medical facility nearby — a forensic exam sexual assault and rape victims take to preserve evidence — the same day. The campus police responded with an 8-hour interrogation and denied her access to food, water and the bathroom throughout the whole incident.
She also claims the university failed to properly handle her case in accordance to federal law.
Under the Clery Act, federal law requires schools and authorities to provide victims of sexual assault with tangible information about the importance of taking a rape kit, using counseling and mental health services, and that they have the right to postpone reporting the crime to law enforcement. A school can face a fine up to $35,000 per violation of the Clery Act.
The student was also denied her right to change her living situation at on-campus dorms, in fear of her attacker returning, and was told that she can be accommodated once she is given a diagnosis of a psychological disorder in response to the attack.
"Had Ms. Doe known about her right to decline to report to law enforcement prior to receiving a forensic examination and medical care, she would have been able to attend her appointment at a local medical center to receive care for her injuries and bleeding after her rape on campus," the complaint said, according to AP.
Giovanna Genard, ODU spokeswoman, told AP the university has a "zero-tolerance" police towards sexual assault and are committed to complying all federal law requirements while under investigation.
"The University is committed to following all legal requirements for investigating complaints of sexual assault and to treating victims with care, professionalism and respect," Genard told AP.
The student also provided a personal statement attached to the complaint claiming campus police detectives asked her invasive and inappropriate questions that made her feel violated.
Some of these questions were "Do you like rough sex?" and "I'm just trying to find the crime here." 
The student said the interrogation resulted in "on-going traumatic stress disorder and anxiety disorder," according to AP.
"After the entire day of being victimized by your police department, I was left feeling paranoid and scared as if I was the criminal," the student wrote.