State senate candidate planned to bring "Kool Aid, KFC and watermelons" to Harlem event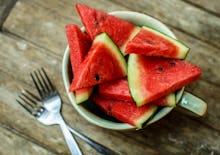 A Republican candidate for New York State Senate told a local news organization that he planned to bring "Kool Aid, KFC and watermelons" to a campaign event in Harlem — and he doesn't see what could possibly be offensive about that.
In an email sent in September, Jon Girodes, a Republican candidate for State Senate in New York's 30th District, told NBC4 New York that he planned to bring the racially-loaded foods to an event in the historically black neighborhood. He was emailing the news outlet regarding an unrelated issue, a real estate dispute.
"P.S. I'm hosting an event in Harlem which will be in front of the state building in a few weeks," the politician wrote in the email. "We will [donate] Kool Aid, KFC and watermelons to the public on 125th street in Harlem. Please join us to help the community."
Girodes then told NBC4 there was nothing offensive about his plans, saying, "What I think is anyone who gives free food to people is doing them a favor. ... Get a bunch of people who say it's offensive and let me go into their neighborhood and give it out for free and see if they take it."
Since NBC4 broke the story on Tuesday, Girodes, who is making his second bid for the State Senate seat, reportedly took down his campaign website, according to Gothamist. It had featured a banner of Martin Luther King, Jr. at the top. His campaign's tweets are now private.
Girodes also allegedly accused one of the NBC4 reporters, who made his email public, Sarah Wallace, of stalking him. "I did not write those words, and if Sarah Wallace is interested in dating me you can tell her I'm in love with my girlfriend," he told Gothamist. He confirmed he had, indeed, sent Wallace a shirtless photo of himself but only because "I got so angry at this lady."
"I should say for the record that I grew up in Harlem, I'm Cuban and African-American. For the record we did grow up eating a lot of watermelon," Girodes said, defending his comments to Gothamist.
But Harlem residents may not forgive Girodes for what one resident told NBC4 was a "pathetically racist and insulting" plan to win over black voters.