Danielle Brooks issues a powerful call for more plus-size representation in fashion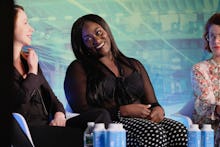 Orange is the New Black actress Danielle Brooks has never been quiet about the struggles she faces as a plus-size woman in Hollywood. In April, she spoke out about the difficulty she has trying to find a decent dress in her size. In September, she talked about the pressure she faces as a black, curvy woman. 
Now, she's written an essay for Refinery29 that calls on magazines, designers and retailers to step it up and start considering and including plus-size women. 
The essay begins with Brooks receiving a fashion magazine with Michelle Obama on the cover. Like all of us would be, she's thrilled, but as she flips through its pages, she notices that very, very few women look like her. 
"In the entire 330-page issue, there are only two women whose bodies look like mine," Brooks wrote. "Less than 1%. That's it. At most, plus-size women make up 2% of media images, when in America, those above a size 14 make up 67% of women. In what world is that diversity?"
Brooks said she was even more confused after realizing that all of the editors-in-chief of these fashion magazines — from Vogue to Elle to Glamour — are women. You'd think we'd all be unanimous about this idea that body diversity is important, but no. 
"Most of these publications and their readers would argue that women should be paid the same as their male counterparts," Brooks wrote. "We're allowed to make noise about that. But when it comes to equal representation in these pages, we go quiet. We simply aren't supporting one another like we should."
As Brooks later explains, body diversity in fashion is important for her because she's experienced first-hand what it's like to go so long without seeing a woman like herself in fashion, and then finally getting a campaign that praises and respects bodies like hers. Specifically, she recalls what it was like when she first saw Lane Bryant's I'm No Angel campaign, which starred plus-size models in their skivvies. 
"I remember the day Lane Bryant launched its I'm No Angel campaign, blasting images of plus women across TV screens, billboards, even subway cars," Brooks wrote. "I walked around with my head held a little higher, my strut a little firmer and my smile a little brighter. I saw myself in those women. As arbitrary as it may seem, it gave me permission to be proud of my body." 
With this essay, Brooks joins the chorus of voices of women who are sick and tired of seeing the same figure in every magazine. On just Thursday, curve model Barbie Ferreira noted that she had hard a time growing up as a curvy woman because she never saw bodies like hers appreciated in the media. 
"I think due to the lack of representation I was insecure, definitely," Ferreira said. "I had a lot of difficulty growing up in a society where everything is very closed-minded, especially with beauty."
But before Brooks wraps up, she makes sure to rid of a few myths of the plus-size world. Firstly, no, plus-size women really don't all prefer to just shop online. Secondly, they want a red carpet-worthy gown just as much as a woman who's a size 2. "Why do so many believe they'll lose their air of exclusivity by being inclusive?" she wrote.  
Additionally, she wants to see more women like her on that runway. 
Come on, designers. How much you wanna bet that if you start pitching to a new market by putting Precious Lee or Tess Holliday in your clothes, that you'll see your sales increase and become a hotter brand? Get with the times, old people. You can still be considered a luxury brand — just a cooler one.
Plus, the plus-size market is basically begging people to pay more attention to it. In 2014, it generated more than $17.5 billion in revenue. 
"Both the fashion and media industries are missing out, big time," Brooks wrote. "We want to shop 'til we drop, be on trend, feel hot and sexy. We want to see ourselves in magazines — not as a quota, but on covers." 
Editors, designers and retailers, Danielle Brooks is waiting on you.