Hurricane Nicole photos 2016: 8 Images of Bermuda in the wake of massive storm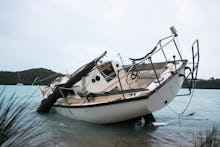 Hurricane Nicole, the powerful storm that hit Bermuda days after Hurricane Matthew pummeled the Caribbean, is blowing further out to sea. All storm warnings for Atlantic costal areas have ceased, according to the National Hurricane Center, leaving little more than rip currents and large swells in Bermuda and along the east coast of the United States and Canada.
Even though its run was short, Nicole still did plenty of damage to the British island territory. On Thursday and Friday, local government closed schools and government offices, and thousands were left without power, according to the Royal Gazette.
On social media, people in Bermuda documented damage from the storm.
Hurricane Nicole latest updates
As of Friday morning, Nicole was already hundreds of miles from the closest land mass, according to the NHC, and heading out to the middle of the Atlantic at a rate of 21 miles per hour. Besides some rough surf on the east coast, Nicole's run may be done.